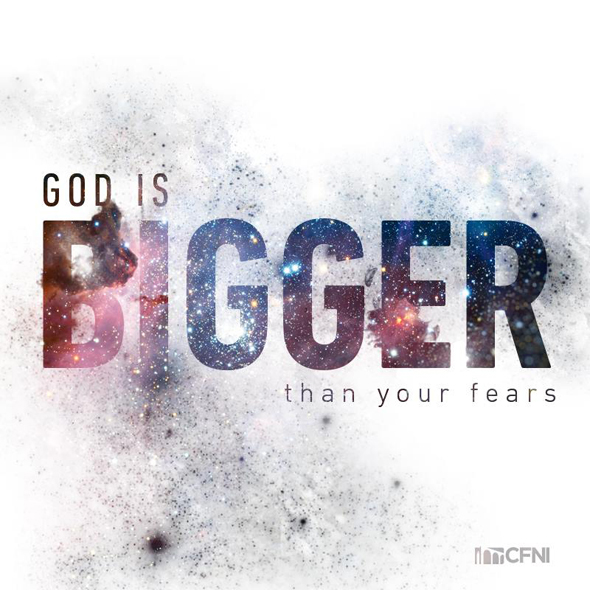 You, dear children, are from God and have overcome them, because the One who is in you is greater than the one who is in the world. 1 John 4:4
From spiders and heights to public speaking, there is something that makes most everyone sweat nervously or shake in their shoes. What one person is terrified of another person might see as small and silly. When caution turns into irrational fear and when your life is limited because you are running away from what you are scared of, fear has taken control. Never allow fear to be a reason why you don't step out to try something that God has called you to.
Often times, our fears look larger than they really are, and when we let them take control of our lives, we've made them larger than our God. Remind yourself today that whatever you have feared is small compared to how great your God is. – Julene Fleurmond, editor of DreaminSoul.com, From Christ for the Nation's Devotional series


You might also like
The Lord will fight for you, you need only be still. Exodus 14:14
My friend Sakenim shared this powerful word about standing on God's promises in your situation regardless of how things look and how you feel. Sakenim is a beautiful warrior of God who has overcome many battles and speaks with power and grace. I know she will inspire you as she did me!
God is in charge of every area of your life – all you have to do is be still, stand firm, speak His Word and BELIEVE!


You might also like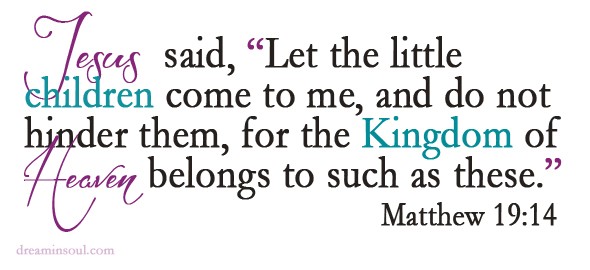 Let us learn to trust the heart of Love from which freedom flows and everything begins…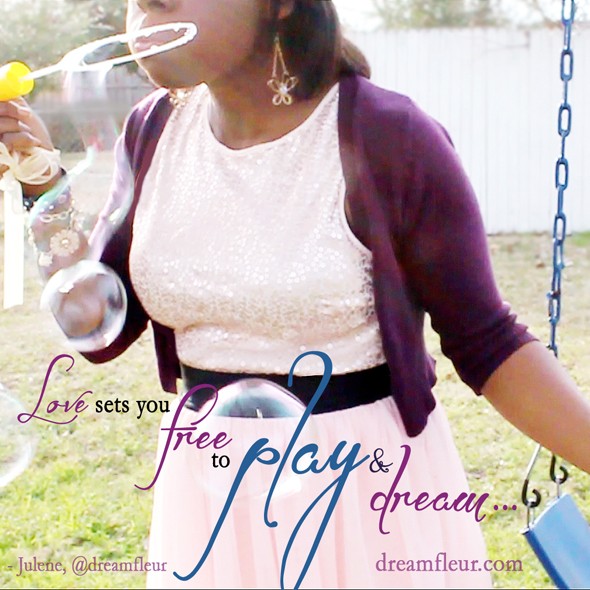 We began our journey on this Earth with the freedom to discover, to explore with wide-eyed wonder, we dreamed, we played naturally – until we lost our trust and fear drew us away from our real life reverie and the freedom that is ours…
What would happened if we embraced the childlike freedom to dream and play again?
I've been learning the freedom of having childlike faith and joy since interning at the children's ministry at my church and seeing how full of joy and wonder the kids are…
Recently at my church the theme of the women's ministry conference was "Permission to Play" and when I heard it announced it was like a nudge of confirmation. God has been instilling the lesson of trusting Him in me for the past few years – since He rocked my world in a vivid encounter in 2009 giving me visions of my calling and of end time purpose…
In one of the visions I saw little kids giggling and playing dress up, and it was as if He was showing me how joyous and free like kids we were meant to be. In another I was in a vast forest that reminded me of the Garden and I was a little girl dancing in a pure white dress asking my Daddy question after question, trying to make sense of life and why things are the way they are.
His response was a deep, extravagant impartation of His love, a glimpse of His passionate plan from the Beginning to end, for us His children, to discover His love and dwell with Him forever and words I will never forget: "Do you trust Me?"
Trust is so important in the journey of purpose and living out the dreams we were made for! Jesus Himself says that it's like a child that we enter the Kingdom of Heaven. Let's just rest, play, embrace joy and trust Him, not leaning on our own understanding – He's got you covered!
And he said: "Truly I tell you, unless you change and become like little children, you will never enter the kingdom of heaven. Therefore, whoever takes the lowly position of this child is the greatest in the kingdom of heaven. Matthew 18:3-4
These songs from Bethel Music have spoken to me recently, I they do you too, as you worship, dance and stare in wonder at our King…



P.S. Click Here to Join Me On My Journey of Learning to Play and Dream at The Dare Dreamer Movement
You might also like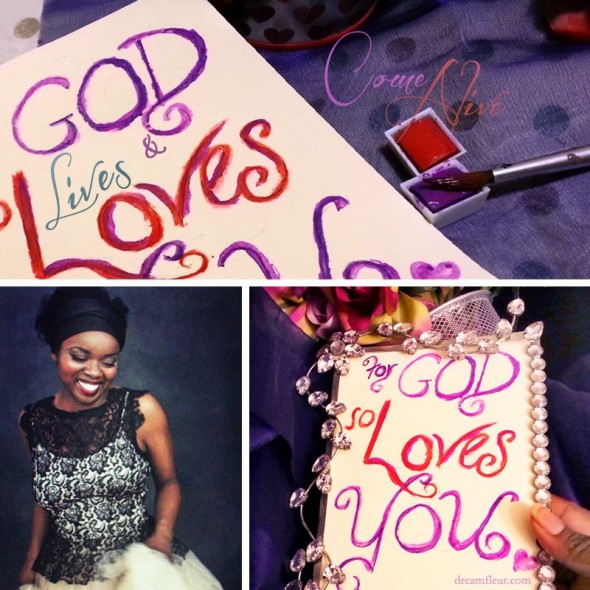 by Dream in Soul's Editor Julene Fleurmond

So. Loved.
So, I thought I knew what those words mean, I'd heard them since I was a little girl, but after years of rejection, repetition and pain they became just words on a page to me. It wasn't until true love rocked my world and revived my heart that I so came alive and could truly see and believe…
For. God.
He pursued my heart with sweet words of tenderness until I ceased my striving for success and stopped running my life to listen. Is that really…You? You are REAL. Whoa. His reality and the new visions and dreams He gave me rescued me from the pit of depression, resuscitated my heart from the death of life without Him.
WOW. His PASSION. The words of His Word become so real and get so personal when you draw in to hear His voice, when He shows you His heart and yours yearns like His, when He invites you on an intimate adventure of purpose for people and you realize just how powerful and passionate this God of love is…
You might also like


David Marvin shares an inspiring word on our the desire for love in this message from The Porch at Watermark in Dallas, TX.
We all fall under two camps: some of us are happy to be alone and don't want a relationship, while some of us are just wishing and waiting for the right guy or girl to come along any minute. But, all of us are missing out on true love. That true love always involves God because God is true love. When we feel unlovable, God sees us as being worthy. He seeks our own best and He bears all thing. He made the first move, making a way for us to experience the fullness of His love through Christ dying for us while we were still sinners. We may feel like we can't be loved and want to resist it, but no matter what we've done, we can never outrun God's true love for us.
You might also like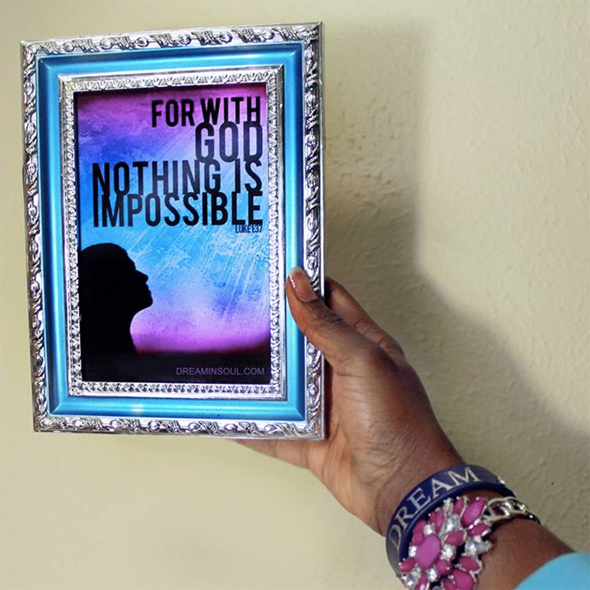 Do not fear – no matter how your life may seem, a miracle is always possible – we were created for the extraordinary…
She thought she was an ordinary girl – but little did she know that she was made for extraordinary purpose that would deliver the gift of light to the world. When she surrendered her life to manifest what seemed impossible, she found out that the greatest dreams are birthed through great Love and miracles…
It may have seemed like a strange way to save the world but there's such mystery and beauty in the way Love came down to be with us, rescue us from darkness and experience life as us so we can live with Him forever. Just as Mary let God's dreams flourish through her life – plans that were greater and deeper than she could imagine – let's do the same and be carriers of love and the greatest dream. Remember in this season and in the upcoming year that with God, nothing is impossible.
God is always greater than our circumstances and His purpose and promises are forever true. He is a God of miracles, marvels and great love for you and I, represented in the present He sent to live among us – Jesus, God incarnate, love personified…Trust that God's dream and love for you is greater than your own will – He can do the supernatural in our lives if we surrender to a higher story. #letLovelead #Believe #bestill #bethemiracle #anythingispossible
"You are blessed because you believed that the Lord would do what He said." Luke 1:45
– Julene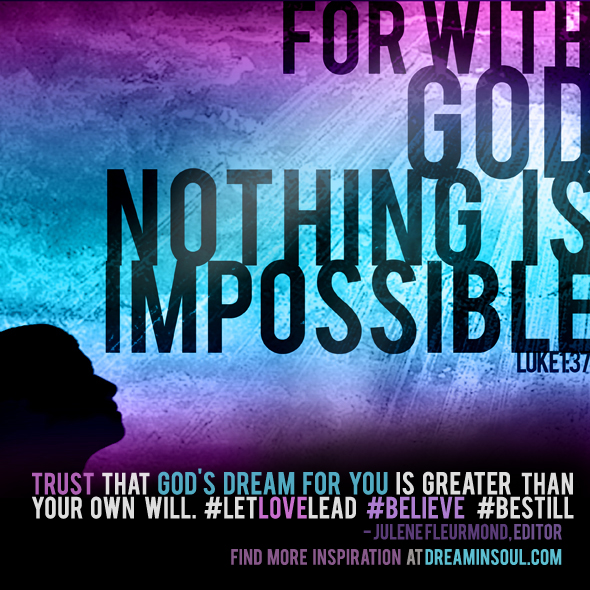 You might also like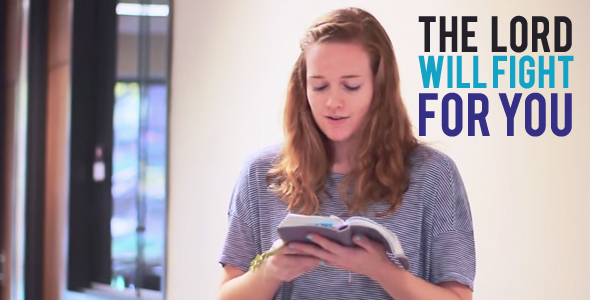 Inspiration from the Halls of College…
We've featured Shirley's inspiring videos (find her at FarAwayDistance on Youtube) before on SOAR. Since then she's started college and has been learning to grow closer to God throughout the struggles and journey. In this video she shares how no matter what you're going through God will stand and fight for you – you just have to trust Him with your battles.
Some of the verses Shirley shares in this video:
This is what the Lord says to you: 'Do not be afraid or discouraged because of this vast army. For the battle is not yours, but God's." from 2 Chronicles 20
What, then, shall we say in response to these things? If God is for us, who can be against us? from Romans 8
This God—His way is perfect; the word of the LORD proves true; He is a shield for all those who take refuge in Him. from Psalm 18
The Lord will fight for you; you need only to be still. from Exodus 14
From Shirley: Sorry it's been so long! College is crazy! But you are BEAUTIFUL and I just want you to know that no matter what you're going through, you're not alone. God is with you no matter what you're facing. Keep holding on. God is GREATER than whatever you are facing.
You might also like
The SOAR Christmas Playlist will feature awesome songs to inspire you this Christmas Season from some of our favorite artists. Check back for more on our Christmas Playlist…
Born Tonight from Jamie Grace
"Born Tonight" is from the new EP "Family Christmas: Songs by Jamie Grace & Morgan Harper Nichols" which you can get here on iTunes. The album features two Christmas songs by Jamie Grace, two songs by Morgan and a song by Harper Still, the collective name for the two sisters who regularly write and perform together. I love the refreshing sounds that make for very unique and moving Christmas music.
Here's another fun and heart-warming video from Jamie Grace's Christmas EP, Christmas Together – it'll get you smiling and in the Christmas spirit! I love how she got her family and friends together on her birthday to shoot the video, and the lyrics and feel of the song are cleverly melded and entertaining. You can get her Christmas EP on iTunes by clicking here!


You might also like
Our hearts long for love, to be restored to the place where we were fulfilled without end. Trust is where it all began…
It was 2009 during a dry, lonely season in my life when I had an unexpected encounter that rocked my paradigm. During the experience I had a vivid vision of being in a white dress in what seemed to be a grand forest. My first inkling was, "Is this The Garden?"
There was a calmness, a brilliance, a presence of Love there. Like a little girl I was full of questions- "Father, why…?" I asked. He revealed his heart and love for people from the Beginning, in imagery and passion, an intimate experience I will never forget and could never have imagined on my own…
These words I remember my Father saying there were the most striking to my heart: "Do you trust me?"
Yes. I do. I will follow His way, always. Even when I don't understand, I will choose Him. Forever… #IamMyBeloveds #HeisMine #trusttheAuthor #theLovestoryofalltime
God is calling you to go deeper into His Love! Your past may have been difficult but it doesn't eclipse His everlasting Love or plans for your life…He's been giving me visions of a garden and speaking and singing Song of Songs into my spirit – I believe its a true reflection of His heart for us – we are His Beloved and He is ours, forever and ever…
– Julene Fleurmond, Editor of SOAR
My Beloved speaks and says to me: "Arise, my love, my beautiful one, and come away…

For behold, the winter is past; the rain is over and gone. The flowers appear on the earth, the time of singing has come, and the voice of the turtledove is heard in our land. The fig tree ripens its figs, and the vines are in blossom; they give forth fragrance.

Arise, my love, my beautiful one, and come away."
You might also like