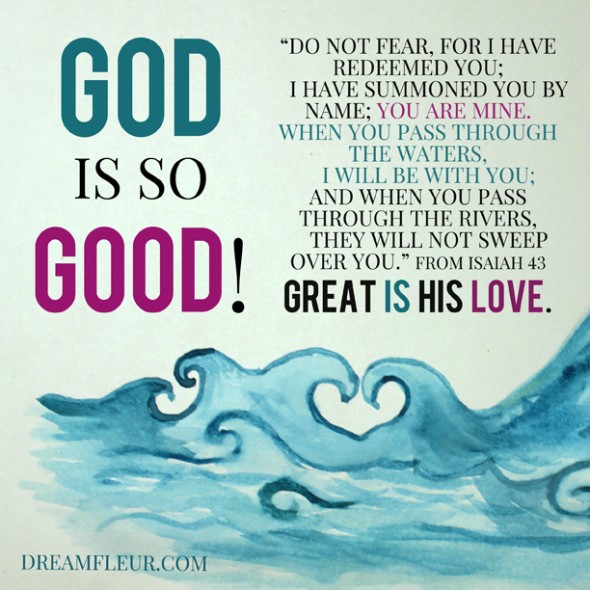 Whatever you go through, whatever the storms or fears that try to engulf your hope know that you are so loved and God is on your side!
I was in the hospital last weekend & out of whack for a week or so with stress and physical issues but wow amidst it all I had the weirdest & coolest God experience. He is real, He loves us, He is sooo, sooo good & has a plan for our lives – just seek Him and you will find Him and His plan for your life! – Julene, Editor of Dream in Soul
But now, this is what the Lord says—
he who created you, Jacob,
he who formed you, Israel:
"Do not fear, for I have redeemed you;
I have summoned you by name; you are mine.
When you pass through the waters,
I will be with you;
and when you pass through the rivers,
they will not sweep over you.
When you walk through the fire,
you will not be burned;
the flames will not set you ablaze.

Isaiah 43:1-2 NIV


You might also like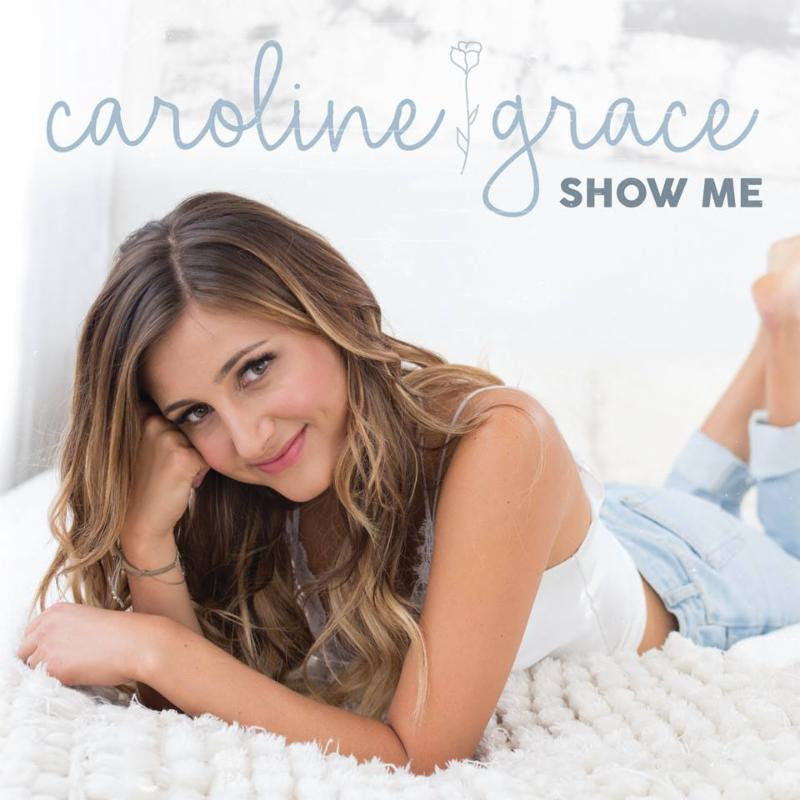 Show Me is an inspiring song by Caroline Grace about finding her way when it comes to love and life. Caroline Grace says:
"There have been times in my life I've found myself getting lost along my own path. 'Show Me' is a sort of intro prospective plea to remind myself of who I am and what I stand for," Caroline states. "The beauty of the song is that it can also apply to various other circumstances. It can be listened to as a love song between two people, a song about loving oneself, or even a worship song. That's the goal in all of my music – to utilize my own vulnerability to relate to other people in any way that I can and let them know that they aren't alone."
For more info on Caroline Grace and her music visit http://carolinegrace.com.
ABOUT CAROLINE GRACE:
Caroline is a singer-songwriter with a humble spirit and deep family values. The daughter of legendary Off-Road Racer, Carl Renezeder, is no stranger to the spotlight but is now stepping into her own as she inspires others through her soulful and humble music. While studying English at USC, Caroline found that her passion for music and desire to share her gift with the world were becoming overwhelming and decided to put all of her focus and attention into breaking into the music industry and spreading a positive massage through her beautiful melodies and impactful lyrics. Her sound is wide-ranging from acoustic to trop pop and she remains rooted in her personal values of kindness, love, and helping others wherever she goes. At just 21 years old, Caroline has already worked with some of the biggest names in the industry and is preparing to release her debut EP that she worked on with Jason "Poo Bear" Boyd. Her debut single "Show Me", a very introspective and powerful acoustic-pop record, is slated to be released this fall.
You might also like
"Walk with me & work with me—watch how I do it…Learn the unforced rhythms of grace… Keep company with me…you'll learn to live freely & lightly." Matthew 11:28 MSG
.
In a world that's hurried & image and success-driven God can give you rest & peace in Him to live like Heaven on Earth… Ever since I was a shy little girl I was ambitious & creative. I started my first business in elementary school selling a homemade magazine, art & cards to teachers & friends & continued my ventures into high school & college running a nonprofit for kids & branding & design firm…
All was great until I became a workaholic & performance-driven – I found my value & worth in serving others (serving is a good thing but not when it is your only value) my talents, the praises of others and the awards and scholarships I won.
Inside I was broken, isolated. I mistreated my body and felt like a robot who longed for relationship and for identity but didn't know I could find it in God. Suddenly in an encounter in the emergency room He showed me His love & how He did intend us to work and be fruitful like in the Garden but in a less hurried, more full way- His success is spiritual, relational, mental, physical and eternal.
With His grace and supernatural power we can have more impact with less striving & grind- He can give us wisdom to do more without neglecting relationships, health and our connection with Him.
Jesus saved the world in three years of ministry and He spent most of His time with God, family and His disciples- go forth boldly toward your purpose but remember there's more to life than constant hustle.
I want to encourage you to work from His grace and rest, not in trying to impress anyone. His dream for you is that you love & partner with Him & His family in purpose to draw people to Him & have a bigger impact then we could ever have in our strength.
Come give Him your burdens & pain – He can handle it and trade you for His peace that surpasses understanding! "Come to me, all you who are weary & burdened & I will give you rest. Take my yoke upon you & learn from me, for I am gentle and humble in heart & you will find rest for your soul…
You might also like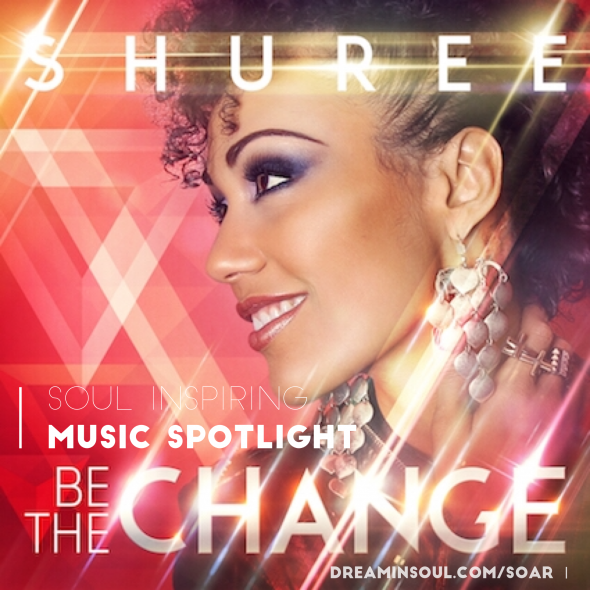 Today I wanted to share the gift of Shuree who is an inspiring artist who inspires us to be the difference in the world that we want to see! Her song "Be the Change" from her EP of the same title is so upbeat and encouraging as is her song "One Girl Can Change the World. We posted about her Christmas music on Dream in Soul Magazine previously and love the heart, passion and light in her work!
Below see how watching the Grammys inspired her to spread this message. Check out more of Shuree's music at her website: shureemusic.com
Shuree's currently recording a song called "Freedom" about what's going on in the world today that I'm really looking forward to! Be sure to check out and download Shuree's recent single "Last Summer" on iTunes and shureemusic.com. Check out her page to hear more and to keep up to date with her new music and what she's working on! "When you're doing your art that's when things get better…" – Shuree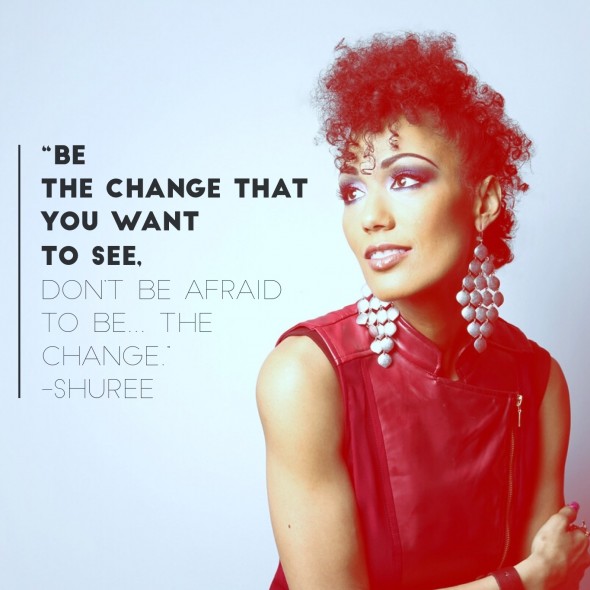 Some lyrics from "Be the Change"
It won't be different till we start unleashin'
The the truth
Let it loose go
Be the change
That you want to see
Don't be afraid to be
The change
He started inside of you
Now let it shine through
Be the change
Live like your made to be the change
Inhaling this mess
You're breathless
To scared to speak up you're feeling powerless
Being cool ain't always right
You don't have to compromise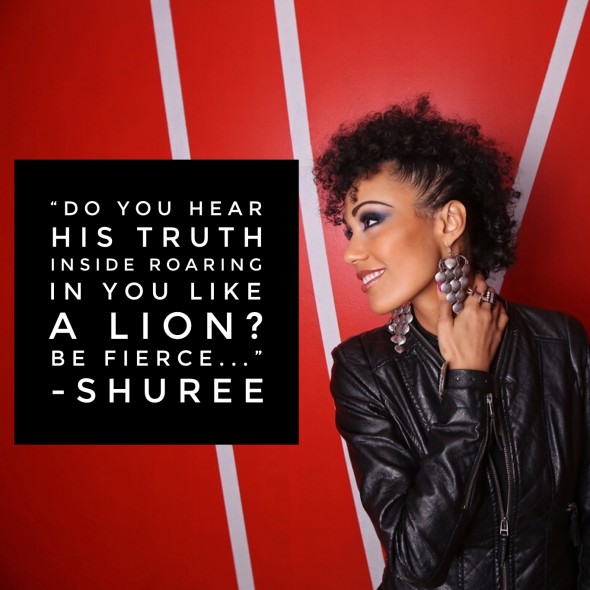 Do you hear his truth inside roaring in you like a lion
Be be be fierce
Be be be fierce
Stand up and take a swing risk everything
Be the change
That you want to see
Don't be afraid to be
The change
He started inside of you
Now let it shine through
Be the change
Live like your made to be the change
Lead the way to His light that won't burn out
To His love that laid it down
To His hope that leads the way
To His light that won't burn out
To His love that laid it down
To His hope that leads the way
So we can be the change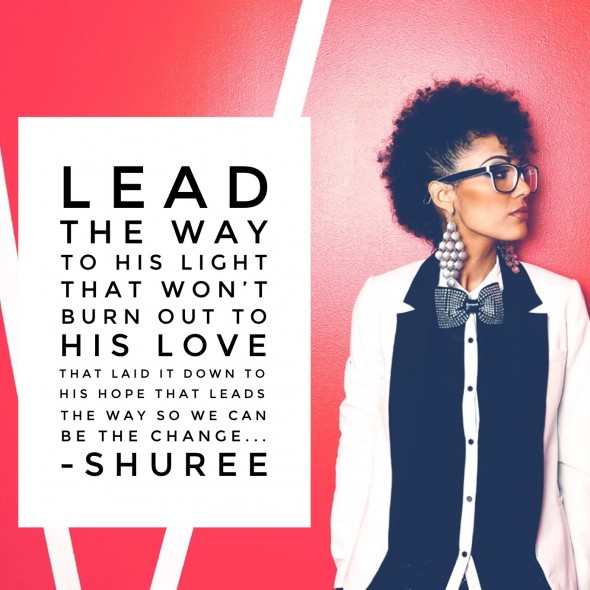 You might also like
Community, love, relationships & family are some of the greatest gifts in life! My friend Sarah has a great series on her site WorkinProgressBlog.co on the power and many benefits of community. I was happy to share part of my story and passion in the series – go check it out!

God used a dry, long lonely time in my life to draw me into deeper intimacy with Him, discovering His heart and love for myself and for other people. The wilderness is where we develop a deep love for God and people if we allow it to! That deep ache of loneliness was filled by God's presence and my dependence on Him to satisfy my desires. I discovered how He longed for His people to get to know Him better and to hear His voice. He also desired for us to love one another and to see each other as missing pieces of the puzzle pieces of His heart – if one person was missing then the picture of His family and even of His image would be incomplete. I believe our unity as His body is one of God's biggest dreams! In our unity we will display His love and glory to the world.

We're relational beings and are made to be together, growing in unity and in God's heart. Family and fellowship was God's original design and intention for us ever since the Garden of Eden when He said it was not good for man to be alone. As God's people we can reflect His heart by gathering together and showing the world what true community is. I'm so grateful for the family and purpose partners God has placed in my life. Iron sharpens iron and we are so much better together! ⚔ Even disagreements can shape us – diamonds shape diamonds when they collide and we can learn about the different facets of our enormous, beautiful indescribable God in eachother! Let's grow in love and community – the more we interact the more we shape eachother and are refined to look more like Love!
You might also like
"I have given them the glory that You gave me, that they may be one as We are one— I in them and You in Me — so that they may be brought to complete unity. Then the world will know that You sent Me and have loved them even as You have loved Me." – Jesus' prayer (in John 17:22-23)
No matter what society says, no matter what we see in the news God's children are one in Christ. No matter the color of our skin we are sisters and brothers, made in God's love for a purpose – we're better together as His family. God's love is unconditional and with our different races and colors we show His creativity and intent for this world – we're His masterpiece! Let's live at peace and appreciate one another and stand up against darkness that has tried to divide and set us against each other since the beginning and throughout history.
Shout out to my friend and brother Joo Chan who I met at Christ for the Nations while we were taking vocal lessons – I'm so inspired by him! He's a passionate singer with a heart for God and people and just dropped his first EP "Process", woooo! Check out his page Joochan.com and be inspired by his amazing sound and words. He came to the U.S. from Korea and went to Israel for the summer and played and ministered to people and is a true example of breaking barriers of culture to reach his fellow sisters and brothers. Keep on sharing your gifts and heart Joo Chan! Love you bro (and thanks for taking time to play at our video shoot. Thanks also Cordell Franklin for your amazing heart and gift in cinematography)!
Love has already won and we are His warriors who battle from His victory against both spiritual darkness and groups who are lost in bondage & inexcusable mindsets. We stand up against hate and fight for love by taking action and being the change we want to see – sometimes that's in sharing your gifts, having conversations with people who are different, creating movements and activism, speaking up through whatever platform you have, and coming together to strategize how we can stop history from repeating itself.
Let's show the world what real unity is by serving our neighborhoods and uniting in making a difference. None of us have all the answers but together with God's wisdom we are the answer – no matter what we are one. 1️⃣- Juene Fleurmond, Editor of DreaminSoul.com
You might also like
I love the song Wonder from Hillsong and and story behind it, about seeing the world and God like a kid again, in awe and wonder. Take a listen to the song and story below:
You might also like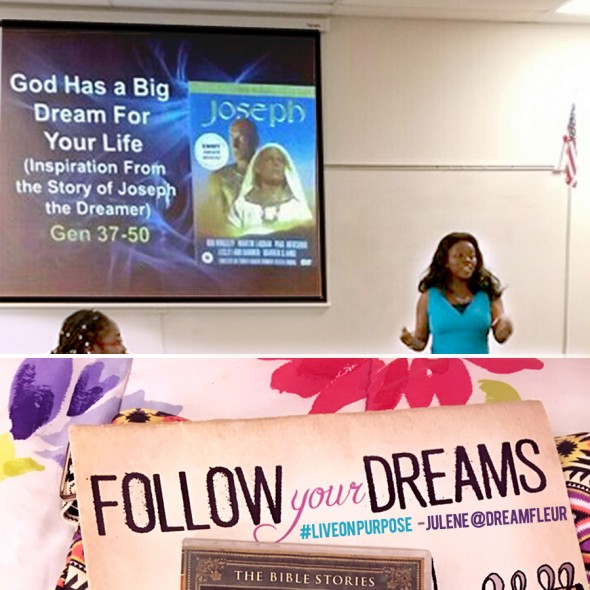 Sometimes it's what you're most afraid of that's part of your purpose – for me that was speaking! These are the confessions of a former major introvert… I used to shake in my boots literally on-stage and even when I had to talk in class as a kid my heart would beat loudly… Growing up shy I hardly talked as a little girl and people would ask my mom if I was mute. When people asked me what I wanted to be when I grew up I squeaked Oprah – I wanted to speak and use my voice to inspire others but didn't know how i was gonna cause I was too scared.
Through practice and perseverance I got through that fear and surprisingly now speaking is my FAVORITE thing to do! I find myself on stages and in classrooms (where I'd probably pass out or drown in a puddle of my own sweat years ago) speaking my story and singing encouraging songs to inspire other kids who were like me to overcome their fears and live their big dreams…
Recently I got to speak with a group of teen girls in Dallas (some of them pictured here) about the journey of dreams – how God has a big dream for each of our lives and how even when things get tough everything works together for good for those who live on Purpose. We talked about the story of Joseph the Dreamer in the Bible who is my fave (go watch the Emmy-award winning movie based it, it's awesome and Joseph ain't too hard on the eyes;) and how even when he was in a pit and the prison he trusted God and served others with his gifts until his big dream came true. God used all of those trials to develop him into a true, powerful leader who would go on to save his people – a foreshadowing of another great leader to come…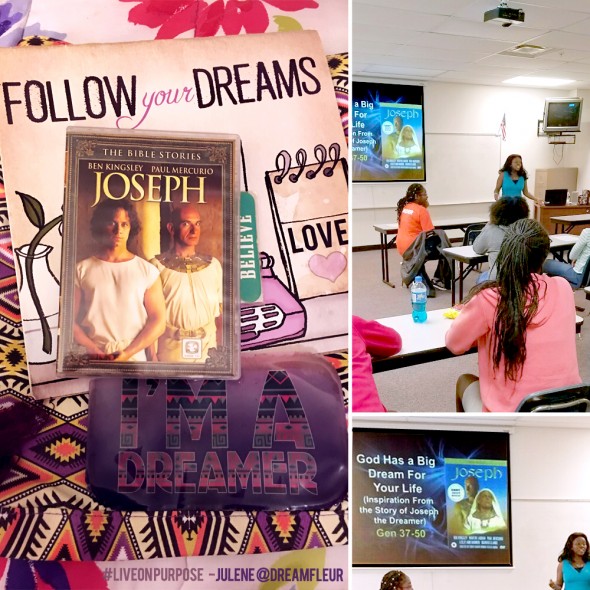 Ever since I was younger God told me my story was like Joseph's and the word "dream" was always in my heart. Everything about my businesses and life had the word dream included somehow since I was a kid (as did gifts my friends gave me pictured here). Like Joseph I overcame years of confusing circumstances and now I'm living out the very dreams I had written down years before – speaking, singing, serving others' dreams and creating a multimedia company that inspires youth to live on purpose. With Love everything is possible – so go follow your dreams and dare to share your story – someone needs to hear you speak about how you overcame too. I truly believe your story can set someone free and I believe in you!
Love and peace ✌️ Julene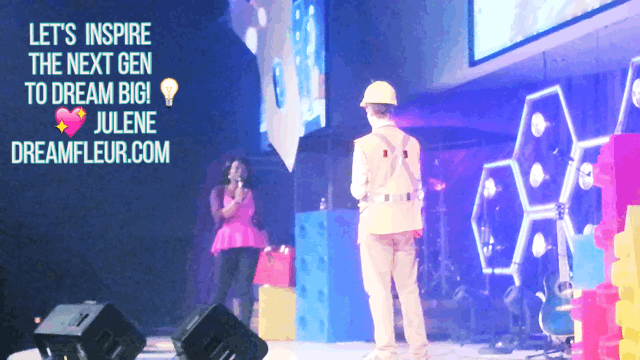 Above: Inspiring youngin's LEGO Movie-style… One of my favorite things to do is create and speak at experiences and workshops merging music, drama and interaction for kids and youth to inspire them to live their dreams boldly in purpose.
P.S. Have a group of kids or teens who could use some inspiration through speaking, singing and a creative interactive presentation? Feel free to send me a line and let me know how I could help! Together we can inspire the next generation!


You might also like