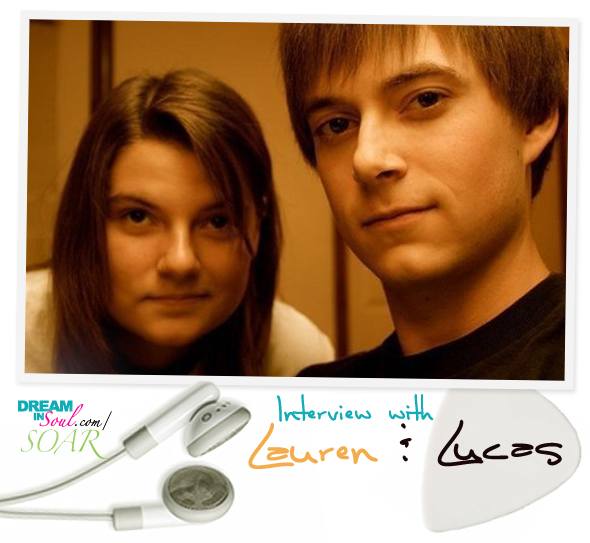 On SOAR we feature young people (from those beginning their ministries to those more established) who are using their talents to bring glory to God. Check out our interview with brother/sister music duo Lauren & Lucas Gandy who began by posting creative videos on Youtube showcasing both their musical and production skills and their love for Jesus. By creating acoustic covers of songs by Christian artists, from Lecrae to Kirk Franklin and Skillet, Lauren and Lucas' videos show you can have fun while bringing glory to God.

SOAR: Can you give us some background on yourselves; how old are you guys, what year in school? Where are you from, and how would you describe yourself for us to get to know you better?
Lauren: Age: 15, Education: 11th Grade, Would describe myself as: Sarcastic, Energetic
Lucas: Age: 22, Education: College, Would describe myself as: Relaxed, Easygoing
Lauren & Lucas: We are from a small town called Mize, The Watermelon Capitol of the World.
Lauren: HAHA- no. seriously, we have a festival every year.
SOAR: When did you start getting into music and what inspired you to start making videos?
Lauren & Lucas: We both remember hearing our mom sing in church. We would hear her practice all the time around the house. She's pretty much where we got our rhythm. She would also have K-Love playing in the car when we would go somewhere. Then in 2005, a friend introduced us to new artists like Grits, KJ-52, and Toby Mac.
In early 2008 we noticed that some YouTube users were getting a decent amount of subscribers by covering and making acoustic versions of secular music. We noticed that there were hardly anybody covering Christian artists, especially Christian rap. Then in December of 2008 we decided to throw ourselves onto the World Wide Web, and here we are now. We've been doing our own video-ing and it has been less hassle with just being two of us.
Check Out Lauren & Lucas's Video Introducing Their Youtube Channel
SOAR: How has the response been? Have you gotten any comments on your videos that have really touched you?
Lauren & Lucas: We've been getting tons of support. We even had a few people start their own music ministry on YouTube. The comments we get are so meaningful to us. It's so wonderful to see what an impact we have on people.
SOAR: I heard Lecrae responded to the "Praying for You" cover you did; how did you react to that? Did it help spread the word about your other videos?
Lauren & Lucas Acoustic Cover of Lecrae's "Praying For You"
Lauren:
We were aware that all the Christian Rap 'Acoustic' covers were originally secular music (called 'Apologetics') but nobody had ever tried to cover a song that was Christian Rap to begin with. So we took a shot at it, but we had a feeling that Lecrae would never see it. With the billions of YouTube videos out there; we felt that it was pretty much impossible. Then sure enough, he found it. Lucas was up late one night and found out from our followers that Lecrae posted our cover on his Twitter and Facebook Page. I was asleep at the time till he came and woke me up. He was very loud and I was very annoyed. Ha ha but It finally hit me the next morning. It definitely helped us get some exposure, although, that's not what we are doing this for. =)

SOAR: Who are some of your favorite music artists and influences?

Lauren & Lucas: Flame, Trip Lee, Switchfoot, Skillet, K-Drama, TobyMac, Grits
SOAR: Will you guys be releasing any original music, and when can we look out for it?
Lauren & Lucas: Yes!
We've been working on an album every chance we get. School has been taking a lot of our time. Not sure when we will be able to release it, but surely we can drop some singles soon!
SOAR: Any plans for songs to record next? Taking any requests?
Lauren & Lucas: "Manafest" is an artist we haven't covered just yet; we are going to start trying to help expose other artists that are not well known. As far as requests, we quickly came to the realization that we cannot cover every song someone requests, so what we do is recognize the songs that are most requested and write them down for future references.


Lauren & Lucas Acoustic Cover of Kirk Franklin's "Let it Go"
SOAR: Can each of you give one of your favorite scriptures that encourage you and why it is your favorite?
Lauren: Psalm 33:3 Sing a new song unto the Lord. <- Music is a big part of my life and so is God. I'm sure God likes to hear a new tune every now and then. =) Lucas: Deuteronomy 32:29-31 One person can put a thousand to flight, but two can put ten thousand. Instead of working separately, we affiliated our YouTube, Twitter, and Facebook page with both of our names together.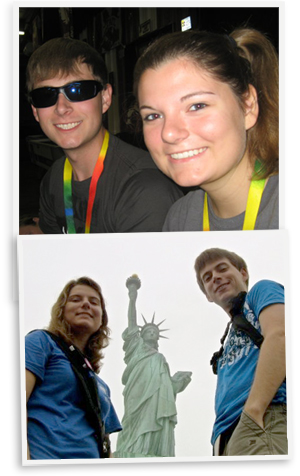 SOAR: What were you guys up to this summer? What are some of your hobbies and ways you have fun where you live?
Lauren & Lucas: We work church Camps, and other camps as well. We also perform at different churches and help open people up to new Christian music. We love to swim; in fact, we usually jump in the nearest creak available!
SOAR: Any reflections on your ministry so far, and what you've learned from it? Where do you hope to take it next?
Lucas: I remember when we first started; Lauren said, "I would be so happy if we reached at least 32 subscribers." Lol- We've learned that most of the time, if your friends like your music, then more than likely others will like it as well, but keep your mindset on God. Right now we are just playing at different churches at the moment. Whatever doors God opens next we'll gladly walk through.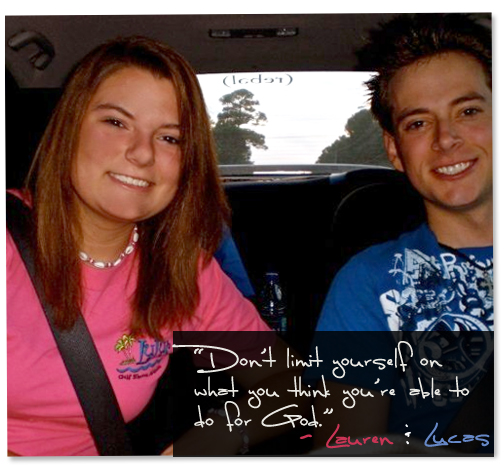 SOAR: Can you give any advice or encouragement to other teens and young adults on using their talents for God?
Lauren & Lucas: Don't limit yourself on what you think you're able to do for God, life is the only thing that is limited…. Don't wait till your older, or till you get that big studio.. Start now.


For more on Lauren & Lucas and their music you can visit them at:
Youtube: http://www.YouTube.com/LaurenandLucas
Twitter: http://twitter.com/LaurenandLucas
Facebook: http://www.facebook.com/pages/Lauren-and-Lucas/89167343769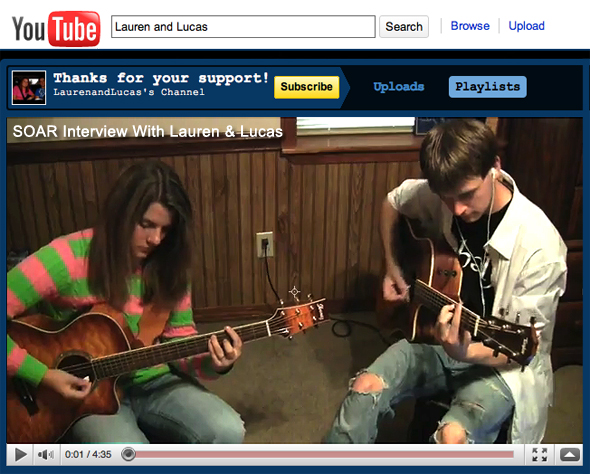 You might also like