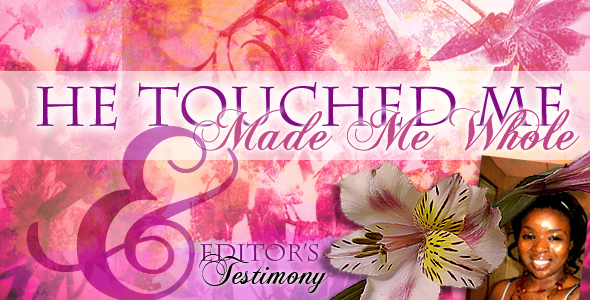 Recently I was asked to share part of my testimony of overcoming obstacles and hardships as a teen with a website for teen girls called Girls 4 God. The editor of the site, Annika, has featured the stories of various women to encourage girls to grow in Christ and I was glad to be able to contribute my experience.
Visit the website at www.girls4god.de/ENGinhalt.html for awesome inspiration for girls, and click here to read my and other girls' testimonies, or read my story below.
My Testimony – He Touched Me & Made Me Whole

Despite of the pain God has renewed me and I want to share my journey with others so that they know there is hope beyond the hurt…

It is amazing how God has taken me from being moss under a rock to being planted as a blooming flower in His fertile ground. Our teen years can be really difficult at times when we're going through changes, pressures and frustrations, and mine were no different. Despite of the pain God has renewed me and I want to share my journey with others so that they know there is hope beyond the hurt…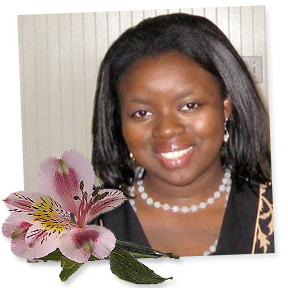 Growing up I as a child was extremely shy but entering my teen years my self-esteem plummeted. I became increasingly self-conscious and would not ever step out or let my voice be heard aloud except when needed. I disliked the way I looked, felt as if I didn't really matter and would cower at the sight of people, only speaking freely to my closest family and friends.

Coupled with that I felt abandoned after my father left the family when I was a child. I was also struggling with an illness at the time that made it difficult to go to school regularly, and so in high school I missed many days because of trips to the doctor's office. It was a dark and lonely road.

Everything seemed bleak and I was merely going through the motions, not embracing life to its fullest potential. At 15-years-old I became depressed and only half aware of being alive and I was hardly taking care of myself.


My body and spirit were shriveling into a tense, broken, guarded existence.

I only felt good about myself when I could please and have the approval of others through my abilities. My life revolved around serving and pleasing people but not only in a godly way; rather I felt that my only worth was in doing what people wanted me to, that they would be angry with me if I didn't, and that there was nothing else about me left to offer. I had lost all joy I had as a child and even forgot the hobbies and pastimes I had enjoyed; nothing seemed worth it anymore.

I grew up going to church and still went with my mother, but the truth of God's love didn't quite become real to me until I was in college. After dealing with loneliness and isolation I began seeking after God like I never had before, asking Him to reveal Himself to me so I knew He was real.

In 2009 I had an experience when God showered me with His love in a real way. It began when I was very ill and had to be rushed to the hospital as a result of a complication. At the time I could remember being only half aware of what was going on around me. My chest was tight and I was scared that I might die there in the hospital. The fear didn't last long because an intense feeling of peace and calm that I'd never felt before embraced me.

In those moments it seemed as if God was comforting me, telling me to let go and stop holding back.

In those moments it seemed as if God was comforting me, telling me to let go and stop holding back. The thought of, "Who told you that you were worthless? Who said you weren't allowed live? Who said you can't?" kept repeating in my mind. I felt as if He was telling me to stop trying to make sense of my circumstances, stop belittling myself and to trust Him with my heart. He controls every beat, created me wonderfully and He is always there with me – just let go. Obeying that command has been a day-by-day release, but I can feel Him enveloping me in His freedom more all the time. Not only has He taught me to let go of anxiety and trying to live in my own strength, I know that because Jesus is the antidote to my sinful nature I can have a deep, intimate relationship with God that is beyond anything on Earth.

Before I was afraid to speak, to share, and to live freely. Now I am speaking, sharing and living to show and tell others about the love that saved me. He's given me visions of my destiny and my passion now is to wake others up from sleepwalking through life to realize that they too have significance in Christ. From speaking engagements to sharing my story with youth that I teach, God has been amazing in revealing my purpose and launching me into hope and a future (Jeremiah 29:11).


My pain has become a conduit to reach others going though the same.

I know He loves me, and I know He loves you – will you let Him into your heart?

You don't have to wait until a major event like an illness to happen to realize that you and your life are worth it in God's eyes. Let Him takeover today – let loose your fears, hurts and troubles to Him. Jesus says:

"Come to me, all you who are weary and burdened, and I will give you rest. Take my yoke upon you and learn from me, for I am gentle and humble in heart, and you will find rest for your souls." (Matthew 11:28-29).

You will be amazed at how trusting in the Lord as your Savior and strength in life, and deciding to live your life by only His opinions of you will liberate your heart, mind and spirit.

He freed me from darkness and nurtures me to grow beautifully into His light; for that I am ever grateful.
"For I know the plans I have for you," declares the Lord, "plans to prosper you and not to harm you, plans to give you hope and a future. Then you will call on me and come and pray to me, and I will listen to you. You will seek me and find me when you seek me with all your heart. I will be found by you," declares the Lord…
Jeremiah 29:11-14
Visit Girls 4 God for more inspiring testimonies:

You can find out more about my ministries at my websites:
http://www.dreamfleur.com
http://www.dreaminsoul.com/blog


One Touch (Press) – Nicole C. Mullen
He Touched Me – Tanica Campbell
Lyrics by Bill Gaither
Shackled by a heavy burden,
'Neath a load of guilt and shame.
Then the hand of Jesus touched me,
And now I am no longer the same.

He touched me, Oh He touched me,
And oh the joy that floods my soul!
Something happened and now I know,
He touched me and made me whole.

Since I met this blessed Savior,
Since He cleansed and made me whole,
I will never cease to praise Him,
I'll shout it while eternity rolls.

He touched me, Oh He touched me,
And oh the joy that floods my soul!
Something happened and now I know
He touched me and made me whole.
You might also like