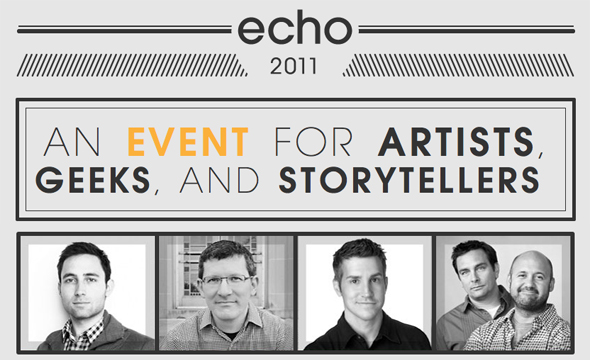 If you work in the in the field of communication or digital media this conference might be one that interests you:
About the Conference
Echo is a three-day gathering of creative church leaders who are passionate about digital media and the gospel. This year's event will be held at Bent Tree Bible Fellowship in Carrollton, Texas, from Wednesday, July 27 to Friday, July 29. Together, we'll explore topics such as visual storytelling, event programming, social media, online community, graphic and motion design, and more.

Featured speakers include Scott Belsky, Jon Acuff, Andy Crouch, The Skit Guys, and many more breakout session speakers.

Echo attendees hold a variety of positions in churches, ministries, and non-profits. Pastors, communication directors, web designers, and digital media producers will be there. The common theme—a desire to communicate Truth in the 21st-century.

About Echo
Since 2008 Echo Conference has been an opportunity for creative church leaders and communicators to learn, connect, and worship together. Every year pastors, filmmakers, teachers, designers, and communications directors from far and wide gather together in Dallas, Texas, for three days to explore the intersection of media, technology, and the Church.

Echo exists — as a team and an event — to equip, encourage, and challenge its audience. Our hope and prayer is that Echo will serve communicators as they serve their churches and their communities.

Of course, this desire to serve to church leaders isn't exclusive to Echo. We share it with each of our sister company — Igniter Media. Igniter provides media resources designed to help communicate truth and facilitate worship experiences, and Echo is proud to be associated with that mission.
Visit www.echoconference.com for more information and a full list of speakers.