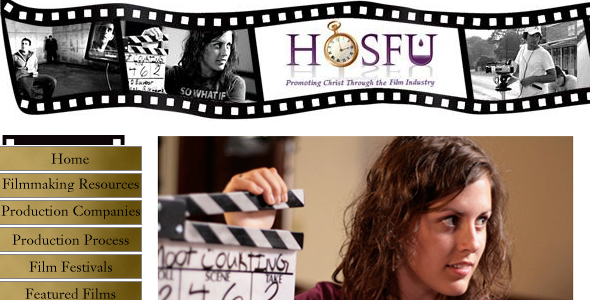 Christian-Movie.com has an array of resources, interviews, tips and more for filmmakers:
Christian movies too often carry the stigma of being low-quality and unimpressive. At Christian-Movie.com, we want to change this.

Our purpose is to promote Christ through the film industry. We aim to accomplish this by supporting you – the Christian filmmaker – in each phase of creating Christian movies…

Christians within the sphere of independent film making are a collection of passionate, creative people working collaboratively, rather than an organized machine, like what is found in Hollywood today.

This doesn't need to be a bad thing or a shameful thing. Most importantly, it should not be an excuse. Though you may not feel "big-time," and you may not be on the big screen, you can still create excellent film work.

Christian-Movie.com is your location for independent film making resources that answer "How?" questions, so that you can learn how to do what needs to be done. This is also your stop for information answering "Who?" questions, so that you can find and network with others who can help you do what needs to be done.
Visit the website: http://www.christian-movie.com