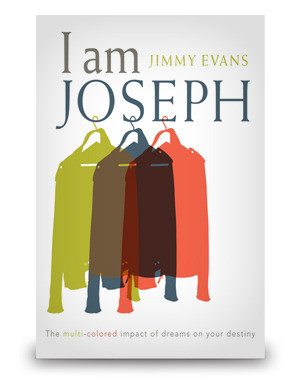 Jimmy Evans and his wife Karen may best be known for their ministry MarriageToday that enriches and equips couples and families with the teaching and tools they need to succeed. I have been especially inspired by one of their message series entitled "I Am Joseph: The Multi-Colored Impact of Dreams on Your Destiny" that gives encouragement for realizing your God-given dream and persevering when dreams are delayed. The series
is based on the story of Joseph how each of us can relate to his journey from being a young dreamer thrown into a pit to saving his people from the palace. I found myself nodding to myself at so much of the message, and applying the wisdom to my own life and dreams.
You can get the full "I Am Joseph" series as a DVD, CD or MP3 Audio Download. You can watch a clip of the series above for just a snippet of this power-packed series.


"I Am Joseph" Series Description:

God has a dream for each of us to follow, a specific purpose and destiny for our lives. Inspired by the life-story of Joseph, this series explains the role of dreams God's redemptive plan. You'll discover the great things that can happen when you give yourself permission to dream.

Permission to Dream
Why Dreams are Delayed
The DNA of Dreams
AND The Dream that Never Dies