In the Dream in Soul interview Marvin Sapp shared some inspiration about ministry and industry, gifts and calling. Here's what he had to say below.
(Click here to read the full interview about Marvin Sapp's latest album "Here I Am.")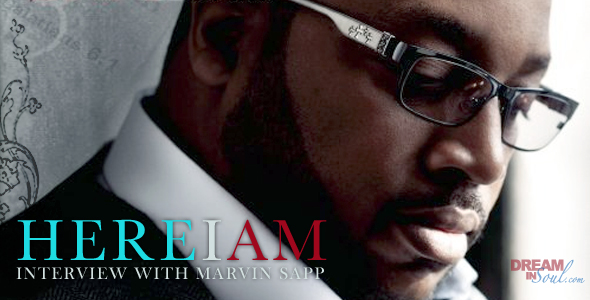 DS: You've said before 'I am not a singer that happens to preach, but a preacher that has to sing,' because singing is a gift and preaching is a calling. Can you talk a little about the difference between a gift and a calling? What message do you have for young adults in finding their calling vs. relying on the gifts?

MS: Well you know with me, this is my own personal definition, some people may disagree, but you know the Bible says gifts come without repentance. I try to make sure that they are separate. If you ask me what I mean by that – I'm gifted to sing but I've learned that I can be gifted and anointed and still live like the devil.
In order for you to be effective in the call you have to be tapped into the source. The only way you can remain connected to the source is you have to live a life that's holy and acceptable by God. So that's why I never put my gift before my call, I always make sure I put my call before my gift because that means that my focus remains in God first in everything that I do.
Listen to Marvin Sapp Speak About His Gift and Calling
& Hear a Clip of the Song "Comfort Zone"
DS: You've said your music and pastoring go hand and hand as a ministry?

MS: Without question. As a matter of fact the fact that I'm able to sing enhances our worship service on a Sunday morning, it really helps to set the atmosphere so that when I stand up and preach the word of God it doesn't fall upon the stony grounds of peoples hearts but it falls upon the fresh ground where it can be cultivated and grow. It gives me the opportunity to break up that fallow ground so that when I sow the seed it makes all the difference in the world in the hearts and minds of people.
DS: How do you balance the artistry, ministry and industry and stay focused on God when in a position like that of influence?

MS: Honestly, again this is my personal opinion, I think they go hand in hand. The Bible tells us a whole lot of things as pertains for looking out for the man or the woman of God and I think that one of the major challenges that we have is people being able to differentiate if you will what's ministry and what's business. The truth of the matter is we serve a God who is superlative in His nature and He requires excellence from us.
When we do function we are to function in a level of quality in business that gives Him glory. I think that when we do that, function in the level that he requires and desires us to function in He does ultimately get glory. So when people talking about separating them, I don't know if you can, I think they all go hand in hand and I think that sometimes we can take it overboard. We can take ministry overboard, we can take business overboard, there has to be a balance and they have to work hand in hand. Sometimes you can be so business that the ministry is lost, and sometimes you can be so ministry that the business is lost, but we serve a God of balance. If we keep things balanced it makes things simpler.
DS: Is there a scripture that you would say embodies the message of this album or your work so far?
"Brethren, even if a man be overtaken in any trespass, ye which are spiritual, restore such a one in a spirit of gentleness; looking to thyself, lest thou also be tempted." Galatians 6:1

MS: Galatians 6:1 I believe says something to the effect of if you find someone overtaken with a fault you who are spiritual should restore someone gently. One of the major problems with the 21st century church is that we kill our wounded. What God is looking for is people who are spiritual enough not to kill our wounded but to love on them and to encourage them, especially if we're spiritual we can restore them. The purpose of restoring them is that we can ourselves; what we sow out is what we reap back. I believe strongly that's what "Here I Am" is really all about. It speaks about that whole concept of understanding that we all have issues that we've had to overcome. All of us ourselves have been places and done things we are not proud of, but even in that God doesn't disqualify us if we get back up and make the decision not to go back there.
I love where it says "Brethren, if a man be overtaken in a fault, ye which are spiritual, restore such an one in the spirit of gentleness; look into thyself, lest thou also be tempted." We're supposed to "bear ye one another's burdens and so fulfill the law of Christ." Galatians 6:1 and 2.

Click here to read the full interview about Marvin Sapp's latest album "Here I Am."