"In Defense of Love" the cover story of the November/December Issue of EEW Magazine features singer/songwriter/producer (and most recently author) PJ Morton who speaks candidly about how he feels about those who don't support his music, and his perspective that Christians can write songs about love.
Click here to read the entire article on www.eewmagazine.com.
Press Release from the Magazine: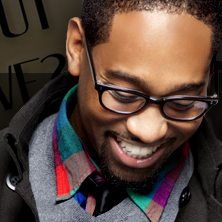 PJ Morton Says "Don't Attack Me.
Just Hear Me Out"
Grammy, Dove and Stellar Award-winning Writer-Producer, PJ Morton Responds to Critics of His Music in the November/December 2009 Issue of EEW Magazine

"Don't attack me. Just hear me out," is the plea of Grammy, Dove and Stellar Award-winning writer-producer, PJ Morton, the author of the hotly debated new book, Why Can't I Sing About Love? The Truth about the "Church" Against "Secular" Music. PJ, who is scheduled to release a new album February 9, 2010, has recently come under fire from those who believe that being a Christian and singing secular songs, is tantamount to attempting to mix oil and water.

"EEW Magazine was flooded with emails about the debate," says Dianna Hobbs, Founder and Editor-In-Chief of EEW Online Magazine (www.eewmagazine.com), referencing the CNN story highlighting the opposing views held by PJ Morton and Grammy Award-nominated artist, Tye Tribbett, about whether or not a Christian can love God and sing R&B music. "It seems that the sides are split right down the middle," says Hobbs. "One side agrees with Tye Tribbett who says absolutely no secular music and the other side agrees with PJ Morton," who says loving God and singing love songs isn't contradictory and shouldn't be viewed as mutually exclusive.

"I don't want a gospel beef!" says Tribbett, who tells EEW Magazine that he never intended to be divisive in his commentary. Notwithstanding, a rift clearly exists. While some like gospel blogger EJ Gaines (gospelpundit.com), believe PJ Morton to be a "gap-bridger," others maintain that the leader of The PJ Morton Band is more of a polarizing figure, stirring up controversy and leading others down a wrong path of compromise. "I don't think you should sing secular music if you love God," says Charlene from Atlanta, GA, a reader who wrote into EEW after viewing the debate. "I just don't agree with that and I don't think God is pleased."

In response to the critics of PJ's choice to talk about real life issues in his songs, among them love, he illustrates a point during his EEW interview, while walking and talking with Dianna Hobbs on the second floor of the Tralf Music Hall in Buffalo, NY. "I could write a song about riding up this escalator right here, you know what I'm saying? And it would be a secular song," says PJ. "But is there anything wrong or out of the will of God with riding this escalator up to the second floor?"

Though this preacher's kid does, in fact, sing what some would classify as R&B music, he says, the difference is, he allows his Christian faith to guide his musical choices. "I think songs should reflect the way you live," says PJ, who doesn't sing or write profanity-laced, sexually explicit lyrics. "I want to be like Jesus and I want my heart to be right."

The question then becomes, why is PJ, who openly professes Jesus Christ as his Lord and Savior—also the same songwriter who took home Song Of The Year honors at the 2008 Stellar Awards for penning the hugely popular gospel gem, "Let Go," recorded by new artist, DeWayne Woods—receiving such negative backlash and harsh criticism from the church?

At the request of EEW, long-time friend, Bryan Pierce, of the group Men of Standard and also pastor of Bethel Baptist Church located in Kannapolis, North Carolina, weighs in on the issue. "Now, I know PJ. I know Paul Jr. and I know where he comes from," says Pierce. "He comes from a good place. He comes from a good space. The guy has a good heart and loves God and has always loved God and desired to please God."
Click here to read the entire article on www.eewmagazine.com.