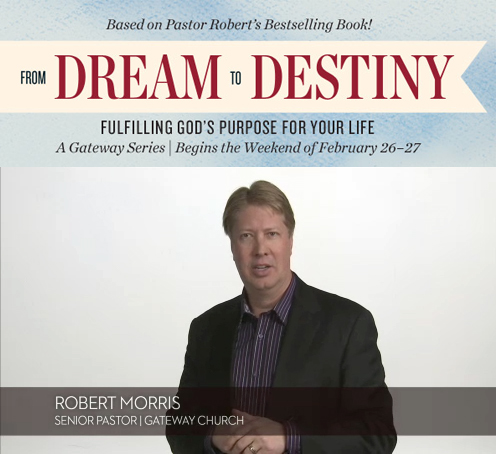 From Dream To Destiny
is a current message series from Pastor Robert Morris of Gateway Church in Southlake, Texas, on living out God's dream for your life.
You can watch the videos in the series on Gateway's message archives under the series title: http://gatewaypeople.com/sermons
Do your dreams seem out of reach?

God has given each of us a dream—an idea that sets our hearts racing at the mere thought of it.

Unfortunately, most people never see their dreams come to pass, so they never fulfill God's destiny for their lives.

Join Pastor Robert for the ten-week Gateway Series, From Dream To Desitny, and discover how you can turn your dream into reality! Through the life of Joseph, you'll learn about the ten character-building tests you must pass before God allows you to realize your dreams.

Get ready to begin fulfilling the destiny that God has in store for you!
Pastor Morris also has a book by the same title and which the series is based on – From Dream to Destiny: The Ten Tests You Must Go Through to Fulfill God's Purpose for Your Life.