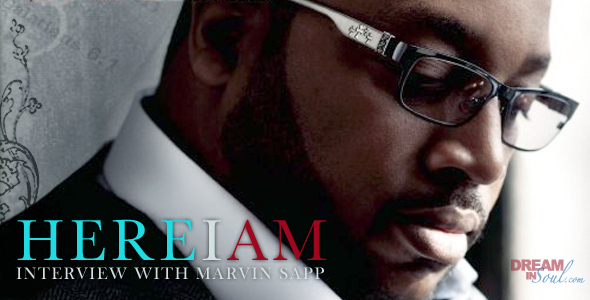 Marvin Sapp's latest album "Here I Am" has reached No.2 on the Billboard 200 chart, making it the highest debuting Gospel release ever.*
---
Interview by Julene Fleurmond, Editor of Dream in Soul
"Here I Am"
Within the resounding success of his latest album "Here I Am," and the breakthrough his previous project "Thirsty," Marvin Sapp is still down-to-earth, thankful and even surprised at how his music has been embraced. Among the accomplishments he stays continually grounded in the purpose of his mission to reach the masses. As the senior pastor of Lighthouse Full Life Center Church in Michigan he stands firm in his creed "I am a preacher who happens to sing," and presents both his messages and music with powerful, life-changing Word and truth.
"Here I Am" his eighth album, recorded live last October, is filled with heartfelt encouragement and a mix of musical arrangements from more traditional gospel to the more contemporary. The project and messages within are sure to be enjoyed by a range of people, clearly shown by the album's surge to the No.1 position on Billboard's Gospel and Christian charts and No.2 on the Billboard 200.
Marvin Sapp chatted with Dream in Soul about the vision behind the album, and also shared some Soul Dreamer Inspiration about ministry, industry, talent and calling. Read and listen in to the conversation below:
Dream in Soul: Hi Pastor Sapp, thank you for taking the time to speak to me today. Can you talk about where you are now since your last project "Thirsty" and what inspired you to create this new project "Here I Am"?

Marvin Sapp: Well this record "Here I Am" is just a tad bit different than "Thirsty." "Thirsty" is a little more worshipful than this record. There's worship on it, but this one is not only worship but is also a record that really strives to encourage and enrich, and to talk about personal identity, as pertaining to personal identity in Christ.
So many times we feel as if we are inadequate and that we don't possess any abilities and skills to be able to accomplish the goals that God has set for us to accomplish and go after. "Here I Am" just speaks to that whole concept of people really understanding that man looks at the outward appearance but it's God who looks at the heart, and how we don't need people to define us.
DS: Definitely, the song "Never Would Have Made It," touched a lot of lives and had great success. Did you come into this new project with any type of expectations, fears or hopes?

MS: Without question, I had tons of fears and apprehensions. I don't know if it was fears as much as it was just nervousness because "Never Would Have Made It" and the "Thirsty" album were huge. Never in my wildest dreams or imagination would I have thought that record would have done what it has done.
So definitely coming behind something like that you're just shocked. So now three years later, I just finally said well I'll never possibly be able to reach that plateau again. So there's no need for me to try to compete with myself, as much as it is for me to put out music that ministers to my heart and hopefully it ministers to the hearts of people as well.
Listen to Marvin Sapp Answer Below
DS: Definitely, I know the song "The Best in Me" was very also popular when it came out. Were you surprised at how successful it is right now?

MS: I'm always surprised (laughs). My mentality is if it aim low you won't be disappointed, because it'll never do what you'll expect it to do. I don't know what it is about me and these two lines… He just gave me another two lines honestly two and a half years ago when "The Best in Me" was actually birthed in another worship service. It's just like the worship service where "Never Would Have Made It" was birthed in, it happened and we decided to put it on the record. After we put it on the record we knew that it was going to be a follow-up single.
I'm always shocked, you just don't expect these things to happen, well I don't let's put it that way. Other people may think that everything they write, people are going to embrace it immediately, but I'm pleasantly surprised and absolutely happy that God has breathed on another one of my songs.
Marvin Sapp – "The Best in Me"
DS: Is there a track on the album that is your favorite or the one that resonates the most with where you are right now in your spiritual journey?

MS: "Don't Count Me Out," is one of my favorite songs because it really speaks to the whole concept and aspect of people writing you off because they look at your outward appearance but God qualifies you because He looks at your heart.
DS: Definitely, I love how your music is so universal in terms of reaching various ages and races. Do you have a particular audience in mind when you create?

MS: I don't know if I have a particular audience, I think my focus is to just do music that ministers to the masses. That's my focus, I'm not trying to find one particular individual or one particular group of people or age group. I just want to hit as many people as possible and I try to give music that crosses gender, that crosses age limitations, that crosses ethnicities, and I think I accomplished it with this record.
DS: The song "Praise You Forever" has kind of a different sound. Is that one of the songs you wanted to branch out with to reach wider audiences?

MS: I'm going to tell you no, that's not why I did that. I did that because I am a strong believer in being a springboard for unknown writers, and there's a young man whom I've known for maybe 20 years, he was a little boy when I first met him in a church in Washington and he's a phenomenally gifted and anointed songwriter, and an awesome singer as well. He sent me this song and I just made the decision that the world needs to hear his music. He's from the Washington D.C. area, and I wanted to make sure I gave him an opportunity and a platform for his music ministry to be heard.
The fact that it was a rock style song it was a stretch for me musically but it gave me an opportunity to do something I think will be embraced by other audiences as well. As you know the young listeners are really into the rock-style worship.
DS: I like how you said that you wanted to give another artist a chance. I wanted to ask you would you say that the Gospel music industry does this effectively, passing the torch down to upcoming artists or younger artists or is there room for improvement?

MS: Well you know what I do feel like in any industry we could do better at succession of course, but I do think that we as a Gospel music genre work extremely hard to make sure we mentor up and coming artists, giving them the opportunities that are necessary in order to perfect their craft.
Gospel music is far different – and I'm not old I'm only 43 – but gospel music is different now than when I was 23 when I first got started. The styles, the trends, a lot of things have changed and the industry has shifted, but I do think that there's still a few of us who really have to understand the importance of reaching back.

DS: You've said before 'I am not a singer that happens to preach, but a preacher that has to sing,' because singing is a gift and preaching is a calling. Can you talk a little about the difference between a gift and a calling? What message do you have for young adults in finding their calling vs. relying on the gifts?

MS: Well you know with me, this is my own personal definition, some people may disagree, but you know the Bible says gifts come without repentance. I try to make sure that they are separate. If you ask me what I mean by that – I'm gifted to sing but I've learned that I can be gifted and anointed and still live like the devil.
In order for you to be effective in the call you have to be tapped into the source. The only way you can remain connected to the source is you have to live a life that's holy and acceptable by God. So that's why I never put my gift before my call, I always make sure I put my call before my gift because that means that my focus remains in God first in everything that I do.
Listen to Marvin Sapp Speak About His Gift and Calling & Hear a Clip of the Song "Comfort Zone"
DS: You've said your music and pastoring go hand and hand as a ministry?

MS: Without question. As a matter of fact the fact that I'm able to sing enhances our worship service on a Sunday morning, it really helps to set the atmosphere so that when I stand up and preach the word of God it doesn't fall upon the stony grounds of peoples hearts but it falls upon the fresh ground where it can be cultivated and grow. It gives me the opportunity to break up that fallow ground so that when I sow the seed it makes all the difference in the world in the hearts and minds of people.
DS: How do you balance the artistry, ministry and industry and stay focused on God when in a position like that of influence?

MS: Honestly, again this is my personal opinion, I think they go hand in hand. The Bible tells us a whole lot of things as pertains for looking out for the man or the woman of God and I think that one of the major challenges that we have is people being able to differentiate if you will what's ministry and what's business. The truth of the matter is we serve a God who is superlative in His nature and He requires excellence from us.
When we do function we are to function in a level of quality in business that gives Him glory. I think that when we do that, function in the level that he requires and desires us to function in He does ultimately get glory. So when people talking about separating them, I don't know if you can, I think they all go hand in hand and I think that sometimes we can take it overboard. We can take ministry overboard, we can take business overboard, there has to be a balance and they have to work hand in hand. Sometimes you can be so business that the ministry is lost, and sometimes you can be so ministry that the business is lost, but we serve a God of balance. If we keep things balanced it makes things simpler.
DS: Is there a scripture that you would say embodies the message of this album or your work so far?
"Brethren, even if a man be overtaken in any trespass, ye which are spiritual, restore such a one in a spirit of gentleness; looking to thyself, lest thou also be tempted." Galatians 6:1

MS: Galatians 6:1 I believe says something to the effect of if you find someone overtaken with a fault you who are spiritual should restore someone gently. One of the major problems with the 21st century church is that we kill our wounded. What God is looking for is people who are spiritual enough not to kill our wounded but to love on them and to encourage them, especially if we're spiritual we can restore them. The purpose of restoring them is that we can ourselves; what we sow out is what we reap back. I believe strongly that's what "Here I Am" is really all about. It speaks about that whole concept of understanding that we all have issues that we've had to overcome. All of us ourselves have been places and done things we are not proud of, but even in that God doesn't disqualify us if we get back up and make the decision not to go back there.
I love where it says "Brethren, if a man be overtaken in a fault, ye which are spiritual, restore such an one in the spirit of gentleness; look into thyself, lest thou also be tempted." We're supposed to "bear ye one another's burdens and so fulfill the law of Christ." Galatians 6:1 and 2.
DS: Throughout the years were there any mentors that helped you get over some of those hurdles or who inspired you?

MS: Without question, Bishop Bishop IV Hilliard is a major mentor of mine, Bishop T.D. Jakes is a major mentor of mine. Even my pastor, Pastor Marvin Winans keeps us on the straight and narrow road and keeps us doing what we're doing, covers us.
DS: What's next for you now, what are your future dreams for your music and ministries?

MS: Well right now I have three books that I've already written, and I'm trying to get them published now. One of the books is called "Stepping Out on the Promise," it's derived from Genesis 12:1. Another book that I wrote is called "Diary of a Psalmist." All these books are short reads, about 100-120 pages, but "Diary of a Psalmist" is a book that's kind of autobiographical and kind of a tale of my life and David's life. Then I wrote the book "Never Would Have Made It Moments." It's a reflections book along with a workbook that goes along with it, and hopefully we'll be able to get those out in the year 2010. We're also building an 18,000 sq. ft. extension onto our church, a 1200 seat auditorium with classrooms for 200 children… So we're doing a lot of stuff and I'm trying to get all this stuff up and done before the year 2010 is over.
DS: Do you hope to do any collaborations in the future?

MS: (Laughs) Well you know what, I would love to do a collaboration on somebody else's record (laughs) and let me tell you why. The reason why I don't do collaborations on my records is because it is almost impossible to be able to sing those songs on the road unless you have those people with you, you know especially if that song is your hit, it's going to be impossible to do it. So the collaborations I've done I've always done it on other people's records, not that I don't think that other people shouldn't be able to sing on my record, because I do, I just know if the song is a hit it will be difficult to do.
DS: Well Pastor Sapp, thank you again for taking the time out to speak to me, and for blessing us with your music.

MS: Thank you.

Click here to take a listen to and purchase "Here I Am" online, and be sure to share your thoughts on it.
*Read more about the success of "Here I Am" in this article from GMClife.com.
Related posts: