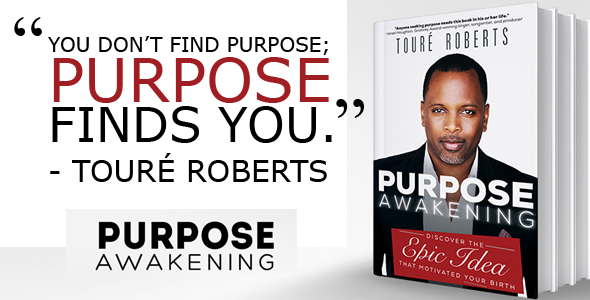 You don't find purpose; purpose finds you. In fact, purpose conceived you; it was the catalyst for your birth…
Prepare for Purpose In This Free Online Coaching Series…

God is calling us higher in this season and is doing a new thing on the Earth – will you be part of it. This year make a commitment to pursuing your purpose intentionally and boldly…
Pastor Touré Roberts of One Church LA (which we have featured in our previous "Ministry Watch" and "Message Pick" features) and author of the soon to be released book "Purpose Awakening" has launched a special free 12-week online coaching course called "Preparing for Purpose" to help you engage in your calling. I've been blessed by the encouragement and wisdom Pastor Touré has shared for years now and this course has been giving me keys to focus on as God leads me deeper into my calling this year.
At the end of 2013 I felt disconnected from my purpose, stuck and with a lack of clarity in how to move forward on the visions God has given me, and discouraged because of feeling isolated and not seeing the seeds I'd sown come to fruition in the ways I expected. Listening to various messages from Pastor Touré and starting the "Preparing for Purpose" series has renewed my hope that the past years of pain and trial have been preparing me for the purpose God is continuously unveiling in my life. I've really resonated with this series and the topics that have been covered, from "Vision," "Discipline," "Finding your Tribe," "Preparation," to "Embracing Change," these are all areas I've found important to develop in my own journey of living out destiny. Pastor Touré will teach you how seeking God and taking steps revealed by Him will lead you in the right direction.
Pastor Touré shares both motivation and practical steps you can take to truly make the course relevant to your life and divine dreams. I encourage you to do the reflection exercises and really delve into the questions, writing down the vision and making it plain so you have something of substance you and your purpose tribe can run with. Check out the video introduction to the series above and visit ToureRoberts.com to join the course.
Watch the first video of the "Preparing for Purpose" series "Vision" below and click here to see the following weeks' videos and exercises:
"Every life began as an epic idea."
Purpose Awakening: Discover the Epic Idea that Motivated Your Birth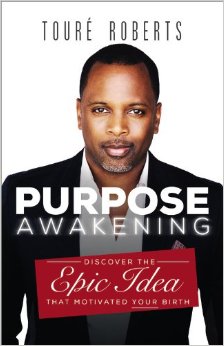 Click here to pre-order the book Purpose Awakening that releases March 18th.
PURPOSE AWAKENING, the breakout book of international speaker Touré Roberts, is about that transformational moment when you are awakened to the purpose of your life. Your life began with a brilliant thought in God's mind. Your purpose, therefore, is the awakening to that thought. In this groundbreaking book, Touré introduces a new way to perceive the meaning of purpose. As he says: "You don't find purpose; purpose finds you." In fact, purpose conceived you; it was the catalyst for your birth.

This thought-provoking book opens with the revolutionary concept that "Every life began as an epic idea." This new way of finding your purpose will empower you and change your life forever. You haven't even begun to live until you find out why you are here.

Touré uses personal stories, humor, and eye-opening analogies to take you on a transformational journey. You will learn how to discover your unique purpose, know God's voice, identify and choose purpose mates, end wrong relationships, put an end to fear, grow your faith, and so much more.

PURPOSE AWAKENING will also give you a relatable and practical guide that will instill confidence, peace, and fulfillment by demystifying the journey to purpose, and enabling you to discover your own unique awakening. Being more than just a "feel good book," PURPOSE AWAKENING provides true direction and gives parameters that guide the purpose-seeker. It will set you on a life-changing course to discovering the good idea concerning your life and the joys of seeing it fulfilled.
Click here to pre-order the book Purpose Awakening that releases March 18th.
Related posts: