One Church International is a powerful ministry in North Hollywood, California, the heart of the entertainment industry. While One Church is open to a wide audience it especially provides guidance and resources to young adults who are called to impact the arts and entertainment. Rising performers, musicians, industry executives, filmmakers and others in related fields are mentored through weekly gatherings, and have the chance to grow within The Artist Resource Center (ARC), a not-for-profit facility that provides artists with the tools and knowledge to grow in their craft.
In the first video above Pastor Touré Roberts brings a convicting message about getting rid of excuses and pride that prevent us from living in the full purpose that God has for us.
In the second message below he motivates us to breakaway from distractions and the ordinary way of the world to intentionally pursue our purpose: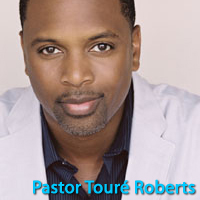 Purpose & Healing Message Notes:

– The number one distraction in someone's life is the distraction from one's purpose.

– "Purpose makes life relevant. The absence of purpose makes life random…"

– Purpose is the divine plan of God concerning you – it is His best for you.

– …When you are committed to walk in purpose you come into alignment with God's anointing for your life; He cannot anoint what He has not chosen for you…He can only anoint what you are supposed to be doing.
Be Sure To Check Out These Other Related Messages from Touré Roberts and One Church International:
You can learn more about Touré Roberts and One Church International by visiting http://onechurchla.org.

Related posts: