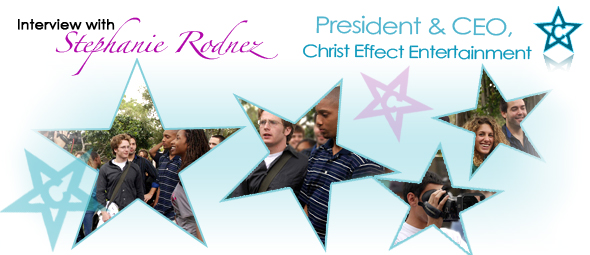 The music is blaring, the lights are low and hundreds of young people are on the move, filling their nights – and cups – with crazy, "harmless" fun. It's a typical night in the life of a college student… right?
Not for everyone. Stephanie Rodnez saw scenes like these when she entered college six years ago and felt a stirring in her heart when witnessing many of her friends falling away from their relationships with God. So many students who had been committed to Him gradually took their hearts back to engage in "college life"- consisting of everything from getting drunk and partying hard to being promiscuous – and anything else movies and TV deem is normal.
Nearing graduation Stephanie felt God telling her to change her career plans and use her talents to glorify Him. Despite initial hesitation she heeded the call, and her independent film company Christ Effect Entertainment was born. The company presents Christian media for young adults that encourages them to stay firm in their faith no matter what the culture and media throws at them. There are two films already in distribution and plans to expand into television, books, and even a nightclub.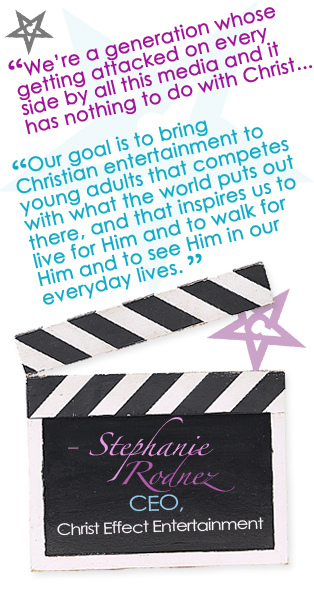 Now finishing up her graduate degree in business at Nova South Eastern University in Miami, FL, Stephanie is rallying up other young people with a passion for God to battle the messages and lifestyles bombarding young adults today. With her warm, joyful personality and creative, youthful productions Stephanie draws others in to see the truth of God's love, and she's striving to make a mark for "Godlywood" one young audience at a time.
In Take 1 of the interview Stephanie chatted with Dream in Soul about how and why she got started with Christ Effect Entertainment, the growth of the Christian film industry, and about the work she hopes has a powerful effect for Christ in this generation:
Dream in Soul: Hi Stephanie, thanks for speaking with me today. I wanted to first ask you when did you feel the calling to make films?
SR: Ah, well it's actually really cool. I was 14 or 15 and was in love with journalism, in love, in love, in love… I didn't want to do anything else. I did this internship at the Sun Sentinel (a local Florida newspaper) for six weeks, and I fell even more in love with it. So I'm like alright Lord, this is what I'm going to do for the rest of my life, I'm going to write stories for newspapers.
One day I'm sitting in front of my TV screen at home in the summer, and I was just flipping through the channels and I was like wow, there's not a lot of stuff here for young adult Christians. I heard the Holy Sprit telling me – that's what I want you to do.
I was like, I am not doing movies. I already have a job lined up at the Sun Sentinel and I don't even like making movies that much. I was like no way, Lord if you want me to do this, you have to make me love it. So when I got back to school in the fall I started working on my own film and I fell in love with the whole process. And the rest is history (laughs)! He put me on the path, He taught me what I needed to know, and now, praise God it's everything I'm passionate about, and I love doing it.
Watch Stephanie in action as she's planning her upcoming movie "Youth of Christ," in this webisode from her day-in-the-life of an indie filmmaker series:
DS: So how did it go from making the film to starting your own business? Tell me about Christ Effect Entertainment.
The Bible says in Matthew 5:16: "Even so let your light shine before men; that they may see your good works, and glorify your Father who is in heaven."
One of the features of DreaminSoul.com will be special "Spotlights" of artists, especially young artists, who are using their talents to glorify God and to motivate people of all ages. These artists aren't focused on placing the spotlight on themselves, but they use their gifts to shine a light upward to put the focus on God.
As a prelude of the "Spotlights" feature this post is dedicated to the contemporary gospel group 21:03. The group consists of three talented young men, Torrence Greene, Evin Martin, and Jor'el Quinn, who minister to the world through a combination of soulful singing, energetic dance and unique life experiences. The group was brought together by the hit-producing team PAJAM (Paul "pda" Allen, J. Moss, and Walter Kearney), on January 21, 2003, and that date is the inspiration the name 21:03 arose from. Since today is the anniversary of their founding, let's go down the list of why 21:03 shines:
---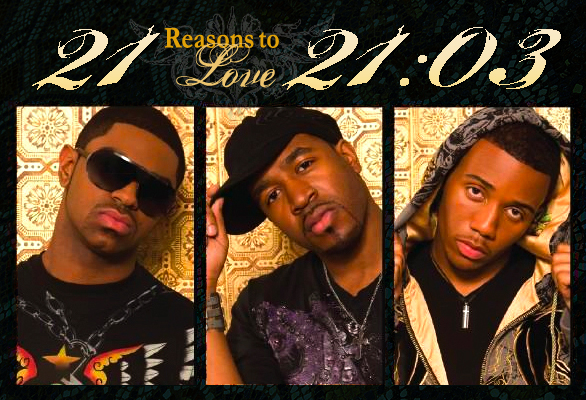 21. 21:03TV
The group's online "reality tv" show is entertaining and inspiring! They take us into their world of rehearsals, photo shoots, and Gospel events, and each episode lets us get to know the guys a little more.
Watch their latest episodes at the 2009 Stellar Awards, that took place on January 17:

20. They Are REALLY Talented – and Anointed!
From delivering velvety and moving harmonies that draw others to God, to getting crowds hype and moving with their high-energy dancing – these guys are really blessed and bless others through their unique ministry. Talent is plenty in the world, but talent and anointing is priceless.
19. "Total Attention" Is Hot!
Every track on 21:03's sophomore album is unique, memorable, and enjoyable. Featuring a blend of smooth meaningful melodies, and high-energy beats, with an indescribable combination of R&B and hip-hop with a dash of traditional Gospel, these guys are paving a distinctive path in Gospel music. They give an alternative to all the negativity we are bombarded with each day. The album was also listed as one of the Top 10 Albums of 2008 on the Gospel Music Channel. You can listen to clips of the songs below!
Continue Reading »