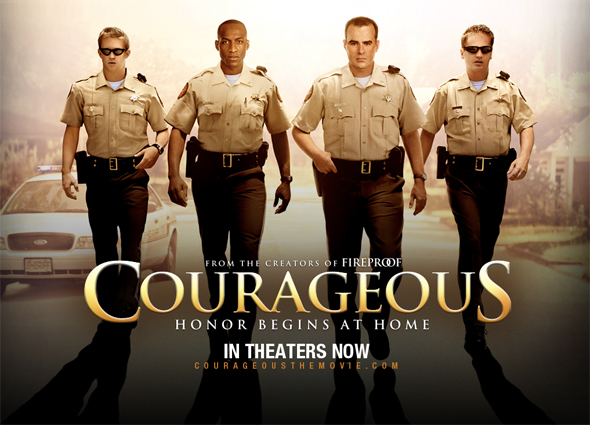 "Honor Begins at Home," is the tagline for the new film Courageous from Sherwood Pictures, creators of the movie Fireproof. The movie explores the topics of manhood and a father's role in the family; I think it's commendable for this theme to be addressed both in a convicting and honoring light. Are you planning to go see the movie?
Courageous Film Synopsis
Four men, one calling: To serve and protect. As law enforcement officers, Adam Mitchell, Nathan Hayes, David Thomson, and Shane Fuller are confident and focused. Yet at the end of the day, they face a challenge that none of them are truly prepared to tackle: fatherhood.

While they consistently give their best on the job, good enough seems to be all they can muster as dads. But they're quickly discovering that their standard is missing the mark.

When tragedy hits home, these men are left wrestling with their hopes, their fears, their faith, and their fathering. Can a newfound urgency help these dads draw closer to God … and to their children?

Filled with action-packed police drama, COURAGEOUS is the fourth film from Sherwood Pictures, the moviemaking ministry of Sherwood Baptist Church in Albany, Georgia. Riveted moviegoers will once again find themselves laughing, crying, and cheering as they are challenged and inspired by everyday heroes who long to be the kinds of dads that make a lifelong impact on their children.

Protecting the streets is second nature to these men. Raising their children in a God-honoring way? That's courageous.
For more information about the film and for theater listings visit: http://www.courageousthemovie.com
Watch the Trailer for Courageous Below:




I haven't seen the movie yet myself but thought the first scene was captivating.
Watch the Opening Scene from the movie Courageous Below:
Related posts: