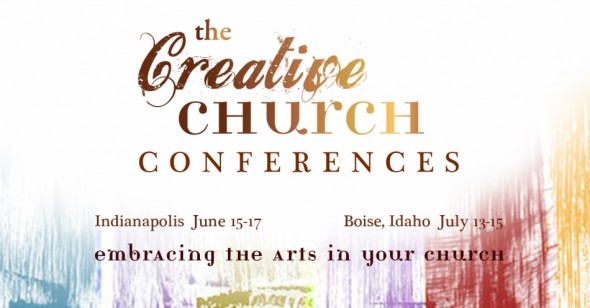 Imagine if the local church became the place in culture to experience creativity, transcendence, and beauty…
Hundreds of years ago churches were, in many ways, centers for these experiences. Somehow, over time we've abdicated that role. Now, many churches are moving in that direction again and there's a growing desire to begin developing creative arts programs.
The Creative Church Conferences will offer inspiration and ideas for churches and artists at all levels; whether you have a flourishing arts ministry, or are an individual artist looking to spark the arts in your church.
Dates and Locations:
Indianapolis, IN: June 15-17 at Indy Vineyard Community Church
Boise, ID: July 13-15 at Vineyard Boise Church

The Creative Church Conferences are forums for ideas and practices that can take artists and churches to new levels of glorifying God through the use of the arts.

Creative leaders from several movements and denominations will share visionary ideas and practical applications. Speakers include Rory Noland (Heart of the Artist), Theresa Dedmon (Bethel Church Arts), Joe Boyd (Filmmaker/Actor/Pastor), ,J. Scott McElroy (Finding Divine Inspiration), Jessie Nilo (VineArts Boise), Beth Booram (Awaken the Senses), Kyle Ragsdale and more.(See a full list of speakers.) Attendees can share during panel discussions and open forums. At the Indianapolis conference, the artists will completely design two Sunday services to conclude the weekend. At the Boise conference, the conference will wrap up with artist Dave Blakeslee giving a Sunday message while creating pottery.

It should be noted that there are many creative conferences that focus solely on musical worship in the church. While the Creative Church Conferences include and appreciates music and worship ministry, the main focus of the weekend is on integrating the rest of the arts–including visual art, film, poetry, drama, dance, and more–into the local church.

Who should come?

If you are an artist, Pastor, or leader interested in the arts in the local church, you need to be a part of The Creative Church Conferences.

Artists and creative teams will discover inspiration for projects and techniques, community-building, character and creative development, and so much more. You'll find your creative "tribe."

Pastors and leaders will discover how to release the godly creativity inherent in every member of your congregation, how to start and maintain arts ministry, how to disciple and lead artists, and how to transform your church into a place that shares God's love in uniquely creative ways, and much more.
To learn more and register visit http://TheNewR.com.
Related posts: