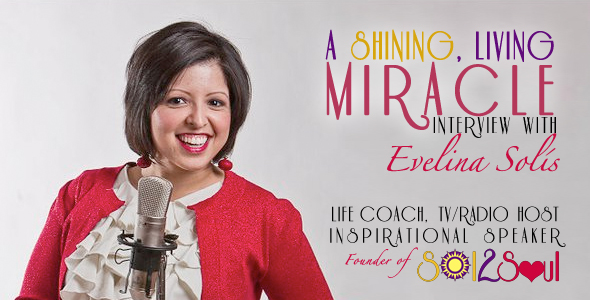 Overcoming the Odds
It's not everyday you get to know a living miracle, someone who has overcome great odds and the clutches of the valley of death, and yet who shines even in the darkest of situations. I am blessed to have met and to be inspired by someone who fits that description, my mentor and friend Evelina Solis.
A few years back Evelina was in the hospital clinging to life after being diagnosed with a pulmonary embolism (a near fatal blood-clot). After the long recovery process and when she thought the worst was over she was then diagnosed with lupus, another serious illness which left her in the hospital getting treatments for months, in the ICU for two weeks and even flat-lining at one point.
Contrast that near-death experience to the vibrant woman who is energetically living out her purpose as the founder of her motivational company Sol2Soul, a certified life coach, inspirational speaker and TV/radio personality. Instead of dwelling on her illness and what could have been, Evelina is living out her faith each day and holding on to God's truth.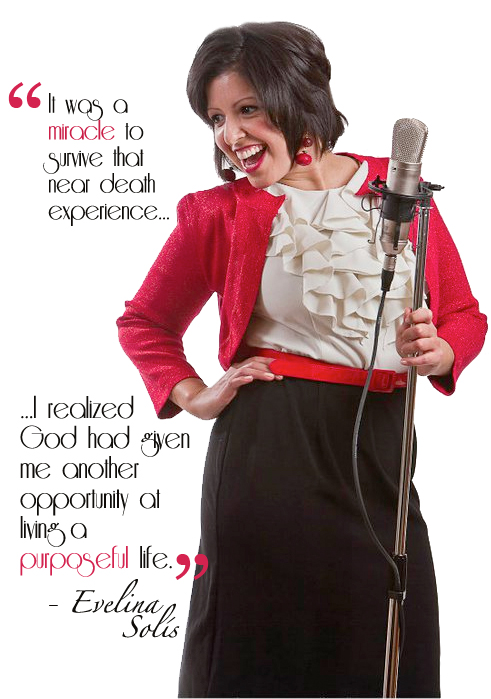 Evelina is traveling around the country telling her story of survival, and is supporting Dream in Soul Creative as a model and spokesperson, wearing T-Shirts from our collaborative clothing line when she speaks to students and other audiences. Recently she was on Macy's Hispanic Heritage Month tour, sharing her story across the country. She's also featured in the book Aim High: Extraordinary Stories of Hispanic and Latina Women by Laura Contreras-Rowe. She definitely lives out her motto of living life to the fullest, inspiring people to seek and follow their passion while leaving the world better then they found it.
I invite you to read Evelina's inspiring story and the advice she gives on living out her purpose in the dark and bright places of life.
- Julene Fleurmond, Founder & Editor, Dream in Soul


Living with Passion and Purpose
Dream in Soul: Hi Evelina, Can you introduce yourself to Dream in Soul?
Evelina Solis: Hello Dream In Soul readers, I'm Evelina Solis, Certified Life Coach, Inspirational Speaker and TV/Radio Personality. I love to come into a room full of people and change the atmosphere when the energy is low, peers are unmotivated, or the membership in your organization is down. My purpose is to generate new energy and enthusiasm that will result in increased participation in projects and activities, inspire others to work hard and increase the organization membership. I have a passion for serving and educating people from all walks of life, volunteering at Shoreline Church and charities, bringing awareness to Lupus, traveling the world, playing and watching sports, writing about my adventures, participating in the arts, and spending quality time with my family and friends.


Surrender
Evelina was featured in a DVD devotional series entitled "The Fight of Your Life" for Shoreline Community Center Church in Austin, TX. She was one of three people who told their story of survival and recovery of serious trials in their lives. Evelina recounted her journey of surviving several life threatening illnesses, and overcoming physical and emotional trauma through her faith in God and the support of her family. Watch a preview of the series below entitled "Surrender":
DS: Tell us about your journey with your health and where you are today?
ES: My journey with my health has been a roller coaster. Regardless of what my family saw or heard, we kept our faith in God and totally relied on Him for comfort, peace and healing. Back in 2006, I was at the prime of my health, or at least I thought, I was 26 years old working out 5 days a week, training for a marathon, and living the life in Miami, FL.
Then out of nowhere I woke up with a bruise on my left calf that ended up going from size of a dime to the size of a softball within a couple of weeks. After coming back from an awards ceremony at the University of Miami (my workplace), I had trouble climbing up the stairs to my office. I was out of breath and I was running a low grade fever. I ended up going to doctors a few times over the period of a month to find out what I had, but everyone seemed to think if I took some antibiotics that I would be ok. That same day I was rushed to the hospital by my roommate.
I was diagnosed with a pulmonary embolism (PE), a condition that occurs when an artery in your lung becomes blocked by a blood clot that traveled from your left calf into your lungs causing extreme difficulty breathing and severe chest pains. According to Mayo Clinic, PE is the third most common cause of death in the US, with at least 650,000 cases occurring annually. It is the first most common cause of unexpected death in most age groups. It was a miracle to survive that near death experience…

Doctors didn't think I was going to make it, because I had permanent damage to my lung from lack of blood flow and oxygen which eventually lead to a painful case of pneumonia. I had to have a pleural effusion done. Doctors had to go into my left lung and drain the fluid with a painfully big long needle. They numbed the area, but I was up for the whole procedure.
I left the hospital in a wheelchair hooked up to an oxygen tank being injected with blood thinner twice a day by an at-home health care nurse. I was cared for daily by my parents who had to suddenly pack their bags and move themselves from New Braunfels, Texas to Miami, Florida until I was stabilized enough to function on my own. It was a very difficult time in all of our lives. My entire family had to step in to help with the extensive responsibilities of care giving.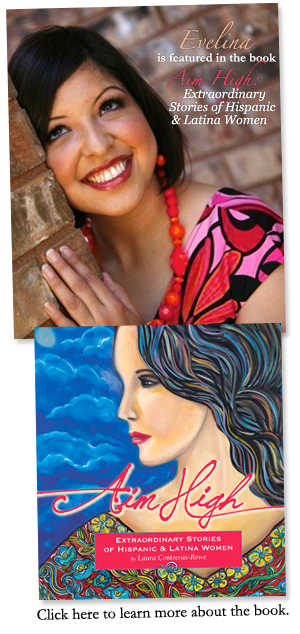 Once I was on my feet again, I moved to Austin, Texas to be closer to family and doctors. After lots of rehab, it looked like my health was getting better.
In the early May of 2008, I went in for an annual checkup and out of nowhere found out that I had to be tested for Leukemia, Breast Cancer, Bone Marrow Cancer and Autoimmune Disorders due to the continual decrease in my platelet count (determines the rate at which your blood clots) and white blood cell count (determines the presence of infection and correlates directly with the immune system). As a result of the low blood counts, I had a left Breast Biopsy done at the age of 28. Thankfully, all of those other tests came back negative.
Doctors were trying to get to the bottom of my blood counts decreasing. They just could not explain it. The doctors felt the only solution was to take out my spleen to fix the two really rare autoimmune diseases they thought I had been diagnosed with which were ITP (Idiopathic thrombocytopenic purpura) and Mixed Connective Tissue Disorder. ITP occurs when certain immune system cells produce antibodies against platelets. Platelets help your blood clot by clumping together to plug small holes in damaged blood vessels. The antibodies attach to the platelets. The spleen destroys the platelets that carry the antibodies.
Fast forward to July of 2009, I was hospitalized with complications from Lupus and was admitted into the hospital for 25 days! I suffered through 3 seizures in a week and flat lined. After being in ICU for two weeks, my life changed forever. Doctors told my family that my recovery could take many months or even up to a year. The trauma my body and brain went through caused me to revert back to a 2-year old. As a result, I enrolled into four months of physical, occupational and speech therapy. In addition, I had chemo therapy once a month for six months to force Lupus into remission.
During these difficult times in my life, I learned a valuable lesson from Psalms 46:10, "Be still and know that I am God." Over the last ten years, God has been revealing His wonderful plan for me, but I was not still enough to listen. He let me know that He has so much in store for my life. I feel Sol2Soul, my Academic/Life Coaching and Inspirational Speaking Company, is part of His master plan.
Back in 2008, I made the big decision to leave my stable job at the University of Texas at Austin as the Leadership & Ethics Institute Advisor to go on the road full-time to speak at schools, colleges, non-profits, churches and companies to bring inspiration, hope and love to people around the world. I know I made the right decision. I have so much to be thankful for!
Today, four years later, I am no longer in a wheelchair or hooked up to an oxygen tank to breathe. I live life to the fullest!
DS: How did being in such a serious condition affect your faith and relationship with God?
I realized God had given me another opportunity at living a purposeful life. It is a gift that should be appreciated and shared with people all over the world. The Bible lets us know many are called, but few are chosen. I know God has chosen me, because of the extraordinary health situation I have gone through and the unconditional love and compassion I have for people.
For this reason, it is in my heart and soul to lift up the name of Jesus! Life is all about being used as an instrument in the hands of our God Almighty. It's about Jesus giving His life for our sins. I have a passion for His name. I want every nation to recognize his fame. Let worship be the fuel for His mission's flame!
Through God's amazing words, we could reach every tribe and tongue to spread His message of love and salvation to all. I am an ordinary person who has been able to overcome extraordinary health situations all with the help of God.
I leave you with one of my favorite scriptures,
"Love the LORD your God with all your heart and with all your soul and with all your strength." (Deut. 6:5)
Read More About Evelina and Her Motivational Speaking Resource Sol2Soul
MISSION
Sol2Soul is a academic/career coaching and inspirational speaking resource that offers a variety of educational workshops, trainings, programs, and consultations to students, teachers, parents, coaches, leaders, corporate executives, non-profits, communities and churches. Evelina Solis engages, enlightens, empowers and entertains her audience across the country from school to school and state to state through interactive delivery methods and educational techniques. You are guaranteed to walk away with a new perspective on life.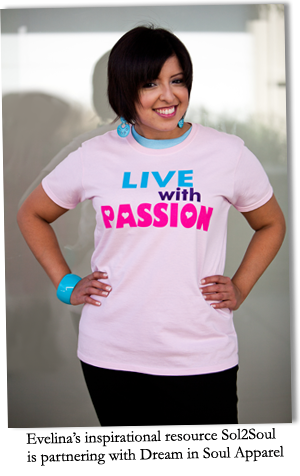 VISION
The vision for Sol2Soul was conceived when Evelina Solis was in high school and college growing up in several different cities across the U.S., actively participating in extra-curricular leadership activities and volunteering in the community. Every year, she saw and felt the increasing need to reach out and captivate as many teens and young adults as possible through "edutainment," education and entertainment sessions. Daily, she is flooded with negative media messages emphasizing the alarming rates of physical, mental and verbal abuse, eating disorders, drug use, alcohol consumption, suicide attempts, depression, teen pregnancy, rape and other risky behaviors consuming the future generation. She feels if she can just reach one person and show him/her that he/she is loved then this world would be a much happier place. She wants you to help her accomplish what she has been put on this earth to do! Together, she feels, we can be the catalyst for change that this world needs.
PURPOSE
Through interactive presentations, Evelina Solis will empower you and take you on a fun-filled journey to discover, know, and live your true life's purpose. She will teach you how to identify your talents. Then she will coach you on how to build upon your talents to develop them into strengths so you can reach your maximum potential in the classroom, at home and/or in the workplace. Then she hopes you will go out and create a chain reaction that will impact others. She wants YOU to leave this world better than YOU found it!
Then it was clear to me that we have two choices; we can either change the world or be changed by the world. You can either live for a greater purpose or live for yourself.
Research has shown that every day in America:
1,377 unwed teenage girls become mothers.
1,106 teenage girls get an abortion.
500 adolescents begin using drugs.
4,219 teenagers contract a sexually transmitted disease.
1,000 adolescents begin drinking alcohol.
3,610 teens are assaulted, 80 are raped.
2,861 teens drop out of high school.
420 children are arrested for drug abuse.
5,388 youth are arrested
6 teens commit suicide.
These statistics drove me to make a difference. My goal is to change the world one person at a time by extending kindness, love, compassion, laughter, etc to anyone who needs it. I want people to live healthier and happier lives -mentally, physically and spiritually.
Find out more about Evelina Solis, Educator, Certified Life Coach, Inspirational Speaker, and TV/Radio Personality: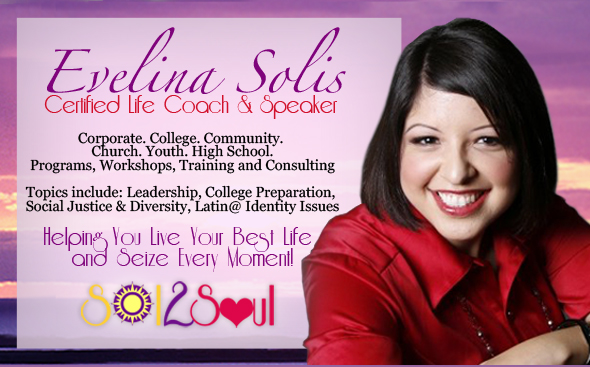 Website: www.MySol2Soul.com
Facebook: www.facebook.com/pages/Evelina-Solis/130988025581?ref=ts
Twitter: twitter.com/Sol2Soul
LinkedIn: www.linkedin.com/in/sol2soul
Tel: (830) 237-3307
MySol2Soul@yahoo.com
Evelina's Radio Shows:
www.blogtalkradio.com/Sol2Soul
www.blogtalkradio.com/LatinosUnidos
Related posts: