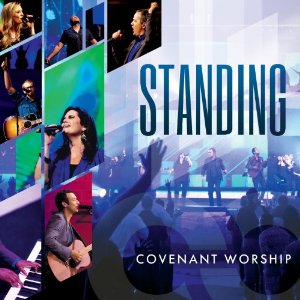 "We're gonna see what we're praying for,
We believe every single word;
Stronger then we've ever been,
Standing on His promises.
We're gonna see the impossible,
We release the supernatural,
Stronger then we've ever been, we are standing on His promises!" – From the song "Standing"
The powerful song "Standing" from Covenant Worship is featured on their new worship album Standing released through Integrity Music and recorded live at Covenant Church in Carrollton, Texas. I'm always encouraged by this song and the reminder to stand on the promises of God despite what our situations may look like and "no matter what the world says" (like lyrics from another song on the album "We Will Believe" remind us).
The sound from the Covenant worship team dynamically and boldly invites God's presence in an intimate way, and you'll be able experience that unique, soul-soothing atmosphere where ever you are. The album includes 13 songs and 6 videos, with new songs like "Dwell" and favorites that have already moved and made an impact around the globe like "Heaven on Earth."
I've heard of so many testimonies of people who were touched by songs that have come from this house, and seeing that Covenant's songs have been some of the top viewed posts on Dream in Soul there are many others who have been encouraged. I myself had a time when the song "My Heart Cries" ministered and comforted me deeply on a ride to the hospital and while overcoming an unexpected illness, and sometimes keep the songs playing when I go to bed so I can wake up to the reminder of God's presence.
You won't regret checking out this album full of spirit-stirring, uplifting music, click here to get yours today!
(Note, I may be a little biased in my review since I do attend Covenant as I've mentioned before on the blog, but do recommend this album from my heart:).

Here's another one of my favorites from the album, "Your Great Love" which has the feel of a modern hymn. Also watch the intro video for the Standing album below and get your copy here.
"I was lost and left with nothing, You became my everything…" – from the song "Your Great Love"
Review by Julene Fleurmond, edior of DreaminSoul.com
Related posts: