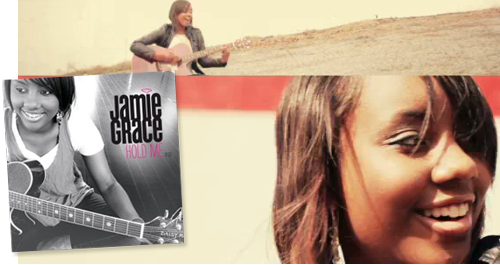 I've got the song "Hold Me" from
Jamie Grace
stuck in my head – it's so upbeat, unique and catchy. For the past couple of weeks I've played it on repeat for the girls who I teach at church, to get them focused on their art projects (and to stop talking about Justin Bieber;) and they love listening to it too as they sing along and color. Glad they can appreciate great music…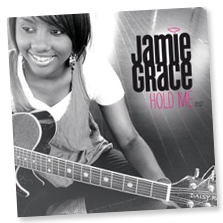 TobyMac recently signed Jamie Grace to his label Gotee Records and her EP that was released in February is funky, soulful and creative – something I think anyone will enjoy. (You can preview the EP on her Facebook page here.) I got to see her in action at Women of Faith's event for teens The Revolve Tour Dream On Garland, TX, event in January (check out some pictures I took at the event) and her story and how focused she is at only 19-years-old is so inspiring.
At Revolve Jamie Grace shared her testimony of how God helped her to deal with a diagnosis of Tourette Syndrome when she was 11-years-old and how she started acting and playing music despite hardships and dealing with discovering who she was. She also shared her song "Hold Me," and an original song dedicated to Revolve. Despite being her first time being on the Revolve stage she seemed like a seasoned pro and was really inspiring and relatable. She's an awesome inspiration to me on how God can launch you into your dreams if you trust, practice your craft and give all you do to Him.
I've been following Jamie Grace on Youtube since a few years back after I stumbled across one of her videos when I was randomly looking for a review of High School Musical 2 (don't judge me, I was a bored college student;). I loved her videos talking about dealing with Tourettes and song covers she did with her guitar. Now she's sharing her story and songs around the country; she's really come a long way and I know this is only the beginning for the amazing places she's going!
For more info on Jamie Grace and to order her EP you can visit jamie-grace.com or connect with her on Youtube, Facebook or Twitter: @jamiegraceh
Below check out a clip of a video of Jamie Grace in action at Revolve in TX:

Related posts: