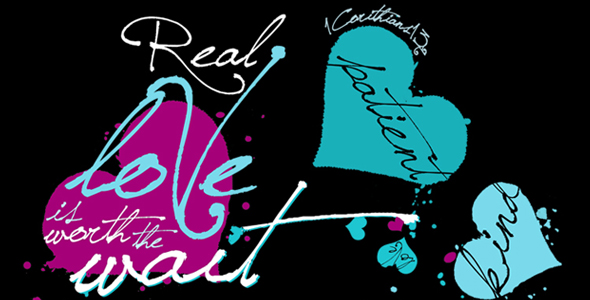 We asked Dream in Soul & SOAR readers to share what love means to them. Here's the winning entry of the "Real Love" T-Shirt contest. Our winner E.A. said:
What does real love mean to you?
Sacrifice! Love is not a feeling. Real love is continous selfless actions towards others!

Why have you decided to wait?
I decided to wait because God's will is perfect. Anything else outside of that is settling for nonsense! God's will is worth waiting for.

Click here for more answers from other Dream in Soul readers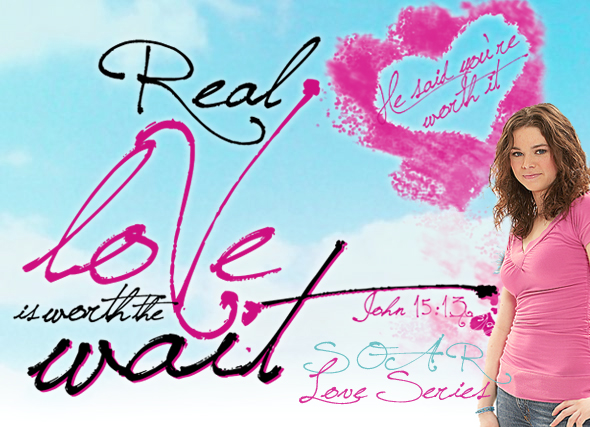 Why I'm Waiting – by Dream in Soul's Founder & SOAR's Editor Julene
For me waiting for love means being intentional with my time as a single and the plans God has for me now. It is also about trusting that God knows what's best for me and that though it's up to me to be open to what opportunities He brings, it is not for me to "chase" them relentlessly.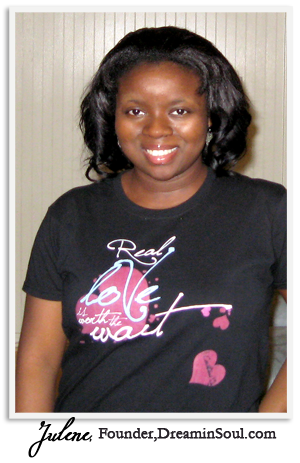 I made a post about "Real Love" on my Tumblr blog a few weeks and loved seeing how many young people responded and have a passion for waiting on a real love story written by God. 70 people reposted and liked the post, which shows that society isn't necessarily right in portraying young people as the microwave generation – "those who don't want to wait."
I truly believe that God wants to use love on earth not only for our pleasure but to teach us lessons beyond what we can see, and to let us more fully understand God's love for us and sacrifice on the cross. If we are worth it in the eyes of the God of the universe, then our hearts are worth the wait for true love that resembles His, and a love story written by Him. John 15:13 says, "Greater love has no one than this, that he lay down his life for his friends."
In His sacrifice we are washed, cleansed and showered in love. It is patient, it kind, it never fails. That's the kind of love God lavishes upon us and that He wants us to wait for. Though unworthy as we feel and imperfect as we are on this Earth, He wants us to trust Him to shape that type of love in us and for us. Waiting for God's direction, rather then settling for being "unequally yoked," is worth it.
I shared this piece on SOAR last year but wanted to do so again in case you missed it and for new readers: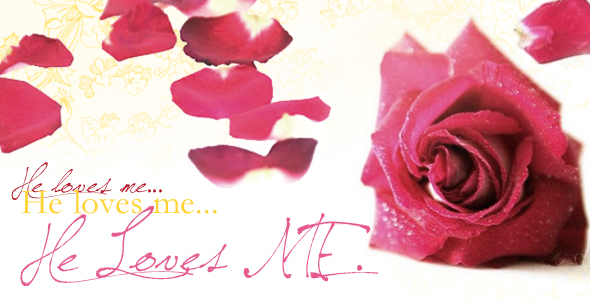 He loves me?
I guess it's almost every girl's dream, cliché as it seems, to have Prince Charming sweep them off of their feet. Then real life happens and they interact with guys their own age and the daydream of the prince quickly fades. That's when settling comes in, lowering our standards just so we can experience "love" and be accepted by someone – anyone…
Sometimes experiencing what we call romance in this world leaves us wondering what love truly is. You feel that happy pounding and patter in your chest when he reveals a bouquet of roses, candy and tickets to "that thing you love". Getting hurt though can peel away the layers of our hearts, like someone plucking the petals from a flower.
He loves me not…
When we're young, and throughout our lives, we want to feel loved but sometimes we rush out too blindly looking for a person to fill us, and feel the eventual impact and pang of disappointment. I've been there and so have so many others – what we thought was sweet sometimes turns sour in the end. With our heart still tender we search for healing – looking for someone, something to mend the torn pieces back together. God is always there, before, now and always waiting for us to give Him our all. Before looking for that type of love from man He wants us to let Him satisfy our every need and want, to fall deeply in love with the One who knows us best…

Related posts: