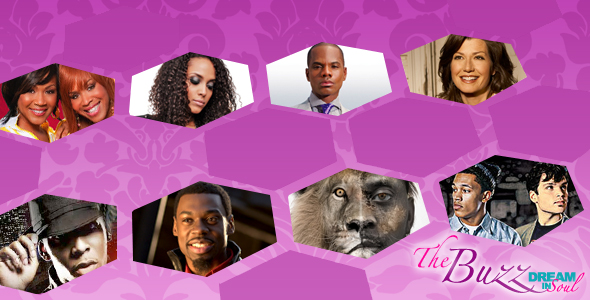 Mary Mary's New Book "Be U"
Mary Mary recently released a book called "Be U: Be Honest, Be Beautiful, Be Intentional, Be Strong, Be You!" Their goal for the book is to inspire women to find their worth in God:
"'Be U' has more to do with the strength God puts in our hearts than it does with how we look on the outside. It's all about seeing ourselves as God sees us: beautiful, forgiven, cherished, and loved."
Click here to order your copy online; Mary Mary is also giving away a few free copies on their Facebook page. Watch the video below where they read some excerpts and describe the vision of the book: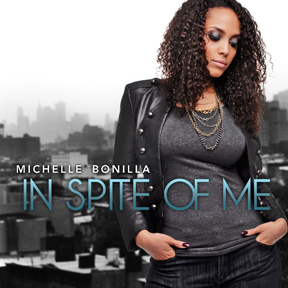 Michelle Bonilla's Album "In Spite of Me" Free Release Concert
Michelle Bonilla's is having a free release concert on Saturday, April 17th, 2010 at 6pm for her album "In Spite of Me," which comes out on April 13. The concert will take place at Calvery Chapel in Philadelphia and will also feature artists Ayiesha Woods, Leah Smith, Donielle Rodwell, TRU Destiny, Benita Farmer, Mark Arthur, Corey Red & R-Swift. Visit the Facebook event page for details and be sure to visit http://www.michellebonilla.com for more updates and to order "In Spite of Me."




Sho Baraka's Lions & Liars and Video for "We Can Be More"
Sho Baraka recently released his sophomore album "Lions and Liars" (Reach Records) also featuring Lecrae, JAMM, Trip Lee, Tedashii and many more. It's currently doing well on the Billboard's Gospel charts at #3. I love the music video for his single "We Can Be More" featuring J.R. The song and video are a great testament of real love, God's way. Visit http://www.lionsandliars.com for more videos and to order the album. Sho Baraka will be hitting the road with J.R. for the Extinction Tour to select cities around the nation. Find a list of cities here.


Trip Lees's Upcoming "Between Two Worlds" Album & Tour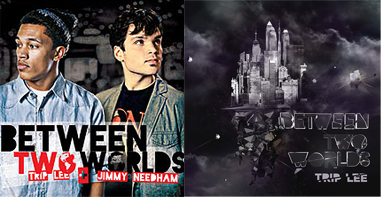 Trip Lee will be releasing a new album "Between Two Worlds," on June 22. On the Reach Records blog he described the meaning of the title:
"I chose the title "Between Two Worlds" because that is where I find myself. And the cover is meant to reflect that reality. Not only am I fallen, but I live in a world that is fallen, interacting with fallen people and fallen situations. However, as a believer my citizenship is in Heaven (Philippians 3:20-21) and I look to the day when Jesus will "recreate" His creation. So while I seek to navigate life in this world, I look forward to the new Heaven and new Earth (Revelation 21). But until I get there, I worship and follow the Hero who already saved the day." – Trip Lee
Trip Lee will also be touring with Jimmy Needham for the Between Two Worlds tour. Click here for tour dates and stay tuned to the Reach Records site for updates.




Mali Music's Live DVD Recording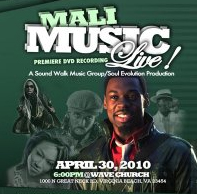 Dove Award-nominated Mali Music will be bringing his vibrant and youthful sound to Virginia Beach for the live recording of his upcoming DVD on Friday, April 30, 2010. Other artists like Tye Tribbett, Deitrick Haddon and others will be in attendance. The two-day festivities will continue on Saturday May 1, 2010 at 6pm with a bonus "Unplugged" concert held at Freedom Fellowship in Virginia Beach, VA. Saturday's event will also feature Mali Music along with Laura Wilson, Alex Holt and Free Worship, Jo Rozier, Jarmel Evans and Worship Forever, Andre Jones and Sacred Assembly and a host of other artists. There is free admission to the "Unplugged" concert for those who have their souvenir booklets from the Live DVD Recording. General admission will be a donation of $5 at the door. Visit the Facebook event and Mali Music's website for more details.
Amy Grant's "Somewhere Down The Road"
Amy Grant's new album "Somewhere Down The Road" also recently debuted. Check out the video below where she shares what got her "started" writing new music for the album, and visit her website for more videos and to order the album.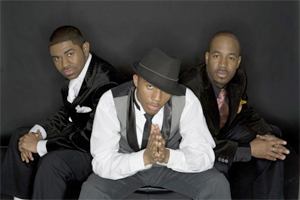 21:03 Wants You to Share Your Favor Testimonies
21:03 recently asked their fans to send their creative video responses to the song "Favor" that will be on their upcoming album. Click here to check out 21:03's viral video and to see one of the video responses.




Blessed & Cursed Movie & Road Tour
Deitrick Haddon presents the Blessed & Cursed Road Tour featuring Damita Haddon, Kierra Sheard, Mali Music and more. The tour will include sneak peeks of the movie "Blessed & Cursed," live performances and autograph signings. Click here to see the promo flier for the to tour and for booking information. Check out the trailer for the film which also stars Karen Clark Sheard, Kierra Kiki Sheard, Sheryl Lee Ralph, Drew Sidora, and many other of your favorite gospel stars.
A modern twist on the biblical story of David and Saul, BLESSED & CURSED depicts Dwight Hawkins' (played by Deitrick Haddon) struggle to realize his God-given purpose. Compelled to help his father after his dreams are derailed, Dwight must choose between family obligations or pursing his own dreams of gospel music stardom. One day he receives an incredible opportunity to become a Psalmist at the city's largest church but this new position is too good to be true as Dwight gets caught in a diabolical scheme of jealously, orchestrated by the church's Bishop.
Kirk Franklin's "The Blueprint" Book Giveaway
Kirk Franklin is giving you the chance to win a copy of his new book entitled The Blueprint: A Plan For Living above Life's Storms. Ten (10) First Prize Winners will receive an autographed copy of The Blueprint and one (1) Grand Prize Winner will receive an autographed copy of The Blueprint and a personal Meet & Greet with Kirk Franklin to discuss The Blueprint for their life. Watch the video below and visit his website for more details. This contest ends on May 15th with a live drawing on Kirk's Justin.tv channel.
Watch the 41st Annual GMA Dove Awards & Cast Your Vote
Watch the 41st GMA Dove Awards on GMC, Sunday, April 25 at 8/7c. You can still vote for your favorite artists in two categories: Artist of the Year and New Artist of the Year on the GMC website by clicking here. Also check out the GMC website for pre-Doves coverage, with winner predictions by our senior music editors, exclusive video interviews with nominated artists, and other opportunities to get involved.
April Music Releases
All in One – Karen Clark-Sheard April 6

Eternity Invades – Vicky Beeching April 6

Ragamuffin Soul – Carlos Whittaker

Related posts: