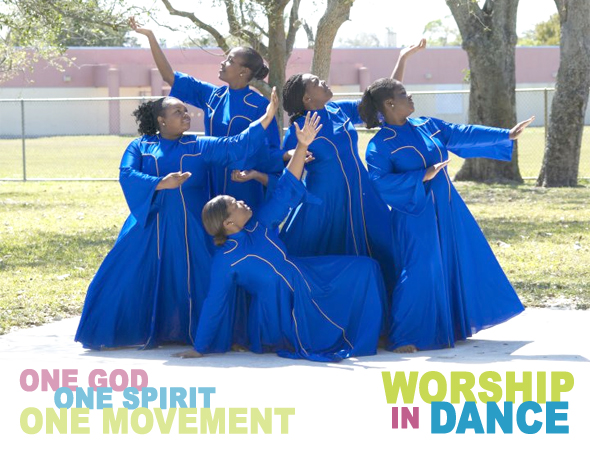 Let them praise his name in the dance: let them sing praises unto him with the timbrel and harp. Psalm 149:3
If you are in the South Florida area, you are invited to a creative worship experience, "One God, One Spirit, One Movement" that is aimed at bringing glory to God through dance: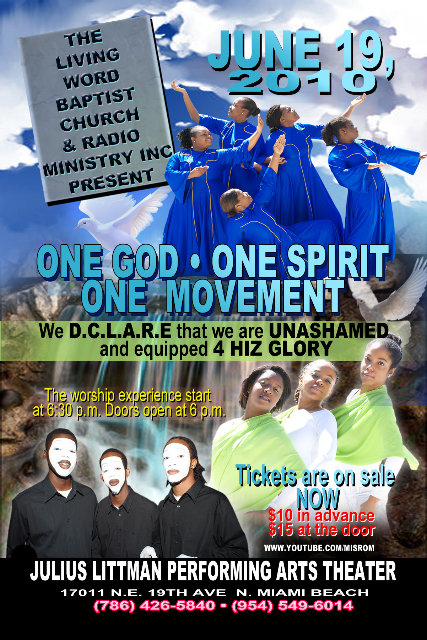 Description from the event host:

D.C.L.A.R.E. (Dancers Called Led and Anointed to Reach Everyone) Liturgical Dance Ministry will be hosting this event in an effort to showcase the gifts that God has equipped His saints within the Ministry of Arts. The purpose of this program is to unite like-minded ministries in one venue to showcase the power of the most Holy God and participants age 3-35 that are making noteworthy strides in fostering positive outlooks on life and channeling their energy through the arts. There will be live expression through the arts by Unashamed Mime Ministry, 4 Hiz Glory Liturgical Dance Ministry, and DCLARE Liturgical Dance Ministry which are comprised of men and women, youth and adults respectively.

Anybody can praise as the Bible commands it in Psalm 150, but worship requires relationship with God and we will WORSHIP our "One God", ask him to send HIS "One Spirit", to perform "One MIGHTY Movement," to save souls and break yokes in Jesus name!

The event is designed to create involvement in the community and to highlight the benefits of supporting local ministries, businesses and community organizations.

Tickets are $10 for Adults and $5 for children and students, or $15 for all tickets on the day of the event. Bring your ministries, your families and your friends saved and unsaved; let's build up the kingdom!

Date: Saturday, June 19, 2010 Time: 6:30pm (Doors open at 6)
Location: Julius Littman Performing Arts Theater- 17011 NE 19th Ave., N. Miami Beach, FL
For more information and to contact the event host click here to visit the Facebook event.
---
No Dancing In Church? A Documentary Featuring DCLARE Dance Ministry
"No Dancing In Church" is a documentary by Consuela Hayes featuring the DCLARE Dance Ministry. The concept of dance in the church may be a topic of conflict to some…



Related posts: