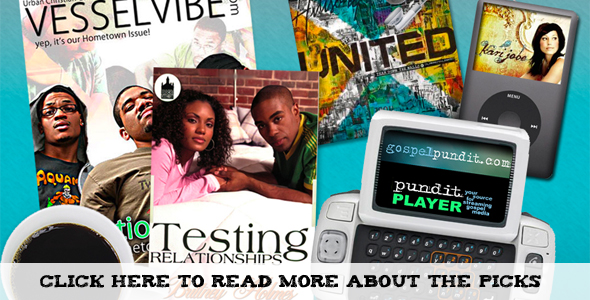 Picks & Clicks is a new series on Dream in Soul that features great selections of positive Christian media & resources. Check out the Picks & Clicks for this week which include Vessel Vibe Magazine, Gospel artist Kari Jobe, Gospel news site GospelPundit.com, the latest album fron Hillsong, and the urban Christian fiction novel Testing Relationships by Brittney Holmes.
Christian Fiction: Testing Relationships by Brittney Holmes
Testing Relationships chronicles the lives of young adults who face difficult everyday situations, like infidelity and temptation, while struggling to maintain their walks with God. This book provides a gripping story and is great alternative to all of the overly racy and graphic urban novels out there. What's most impressive is that Holmes, now in college, wrote the book while a senior in high school, and her books (she has three books published) have become Essence Magazine bestsellers. Holmes says she's inspired most by her mother, national bestselling author, Kendra Norman-Bellamy. You can read a sample of the book here and buy it online. Visit Brittney Holmes' website to learn more.



Gospel Artist: Kari Jobe
Kari Jobe is an international worship leader and songwriter out of Dallas, Texas. Her devotion to bringing the hearts of people to the heart of God, and her candid perspective on worship allow her to connect to people through her beautiful music. Watch this interview of how she describes her role as a worship leader, and listen to clips from her self-titled worship album. (I especially love "Revelation Song" and "I'm Singing"). Visit Kari Jobe on Youtube, on Twitter, on Myspace, Facebook, or her official website www.karijobe.com.
Gospel News Site: Gospel Pundit
Gospelpundit.com is one of the premiere places to get your Gospel music news. The site's founder, EJ Gaines, provides a candid and down-to-earth inside look at all things Gospel through interviews, industry guest bloggers, reviews, and more. The site recently launched a Gospel industry TwitterRoll, the Pundit Player with exclusive previews of artist albums, and is continually rolling out other innovative features and discussions. Check it all out at www.gospelpundit.com.
Vessel Vibe is an edgy urban Christian e-magazine with topics ranging from fashion, entertainment, ministry and lifestyle. The site also has real discussions that delve into various issues without sugarcoating them, and enlightening interviews with Christian rap artists such as The Ambassador, Da T.R.U.T.H., FLAME, and iroCc Williams. Head over to VesselVibe.com.
Music Album: [a_CROSS//the_EARTH] Tear Down The Walls by Hillsong United
Every album from Hillsong Church seems to be filled with worship music that speaks to the heart of people of every background and creed. The songs on this new album, their latest live recording since 2006, are sure to become classic anthems of faith as past ones from Hillsong. Some of the songs have more of a fast-paced rock flavor then on previous albums, but there's still that intimate atmosphere about every track, making you feel as if you're part of the worship experience. You can listen to samples of the tracks below. Visit Hillsong United at the website, www2.hillsong.com/united
Related posts: