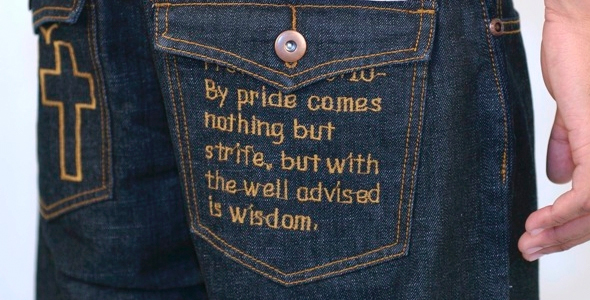 There are many breeds of Christian t-shirts and apparel, and some that stand out among others because they are truly meaningful and unique. You can make a bold statement and represent your faith fashionably in the apparel of some of these Kingdom-minded entrepreneurs:
The show (formerly known as) 106 & Gospel had a segment a few months ago with the young founders of the AbsoluTruth clothing line. The clothing line is comprised of fashionable jeans with a scripture of wisdom stitched on the right back pocket. Each scripture (from the book of Proverbs) is aimed at enlightening and encouraging.
Some of the verses include Proverbs 11:30, The fruit of the righteous is a tree of life, and he who wins souls is wise, and Proverbs 10:16 – The labor of the righteous leads to life, the wages of the wicked to sin.
The company states their purpose is "to help encourage Christians and help them boldly profess the gospel of Jesus Christ… Our vision is to be nationally known as a Christ based clothing line that helps progress the kingdom through influence and who gives Christians a clothing line that can match their life style. Our ultimate goal is to win souls for Christ."
To find out more about AbosoluTruth and to purchase the jeans, visit www.absolutruth.com.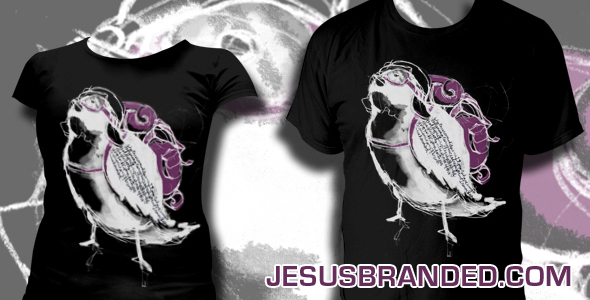 JesusBranded is a t-shirt company that unleashes artistic and profound apparel. The company has been around since 2005, and was founded by two young entrepreneurs and artists, Salil Jain and Sam Franada, while they were in college. Through the company's thesis "Unpackaging Christianity," they hope to "become people branded not necessarily by a denomination, a modern church, or a new social movement, but instead branded by Jesus and our unique and personal relationships with him."
The designs at JesusBranded are far from being cookie-cutter – they are extremely unique and each is released with a deep story behind it. For example, the cool "Maverick" shirt with the bird above was inspired by a personal experience of one of the founders and the Bible passages Psalms 55 and Psalms 91.
The JesusBranded blog has creative features and ignites discussions about faith. The company has also designed shirts for other ministries and charities such as this shirt in gospel artist Steven Curtis Chapman's estore.
Formerly an e-store full of several t-shirt designs, the unique company now releases new $10 shirts on Tuesdays and Thursdays, but they're only available for less than 48 hours after they debut. On their site the founders say they function this way now to become more manageable and to make each of the designs and messages on their t-shirts more meaningful.
To find out more about JesusBranded and how you can purchase their shirts, visit their website at www.jesusbranded.com, join their Facebook group, or follow them on Twitter.
Related posts: