The Bible says in Matthew 5:16: "Even so let your light shine before men; that they may see your good works, and glorify your Father who is in heaven."
One of the features of DreaminSoul.com will be special "Spotlights" of artists, especially young artists, who are using their talents to glorify God and to motivate people of all ages. These artists aren't focused on placing the spotlight on themselves, but they use their gifts to shine a light upward to put the focus on God.
As a prelude of the "Spotlights" feature this post is dedicated to the contemporary gospel group 21:03. The group consists of three talented young men, Torrence Greene, Evin Martin, and Jor'el Quinn, who minister to the world through a combination of soulful singing, energetic dance and unique life experiences. The group was brought together by the hit-producing team PAJAM (Paul "pda" Allen, J. Moss, and Walter Kearney), on January 21, 2003, and that date is the inspiration the name 21:03 arose from. Since today is the anniversary of their founding, let's go down the list of why 21:03 shines:
---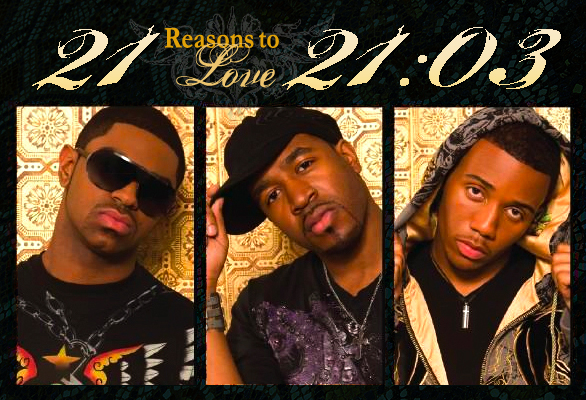 21. 21:03TV
The group's online "reality tv" show is entertaining and inspiring! They take us into their world of rehearsals, photo shoots, and Gospel events, and each episode lets us get to know the guys a little more.

Watch their latest episodes at the 2009 Stellar Awards, that took place on January 17:
20. They Are REALLY Talented – and Anointed!
From delivering velvety and moving harmonies that draw others to God, to getting crowds hype and moving with their high-energy dancing – these guys are really blessed and bless others through their unique ministry. Talent is plenty in the world, but talent and anointing is priceless.
19. "Total Attention" Is Hot!
Every track on 21:03's sophomore album is unique, memorable, and enjoyable. Featuring a blend of smooth meaningful melodies, and high-energy beats, with an indescribable combination of R&B and hip-hop with a dash of traditional Gospel, these guys are paving a distinctive path in Gospel music. They give an alternative to all the negativity we are bombarded with each day. The album was also listed as one of the Top 10 Albums of 2008 on the Gospel Music Channel. You can listen to clips of the songs below!
18. Their Song "Cover Me"
Their single, also on "Total Attention," features Fred Hammond, Smokie Norful, and J.Moss, and is an amazingly soulful song about the importance of covering our spiritual brothers and sisters in prayer. The song was the number 3 song in the country on the gospel charts, and no wonder!


Listen to Jor'el talk about the significance of the song:

17. They're Grammy-Nominated
'Nuff Said – 21:03 was nominated for Best Gospel Song for "Cover Me." They also won a Stellar Award last year for Rap/Hip Hop Gospel CD of the Year.

16. They've Got Style!
What can we say, we love their colorful, funky style, and smooth polished looks.

15. "YOU"
"YOU" one of the songs from "Total Attention" is definitely a crowd favorite! The upbeat and lively song gives all of the glory to God, and the video was Number 1 on the Gospel Music Channel for several weeks! You can watch it HERE.

14. They Make Us Laugh
21:03 keeps us cracking up with their hilarious videos (click here to see what we mean!), brotherly bickering, and fun personalities. Look at how they brought in the New Year below! (Be prepared to "LOL").
13. They Like to Have Fun
There never seems to be a dull minute with the guys on 21:03TV, and they show us young that Christians can have clean fun. Just look at how they rang in the New Year with a bottle of sparkling…Welch's cider.
12. They Love to Share
Of course we can't go to every concert and Gospel event, but the guys take us into them and give us a behind the scenes look at all things Gospel.

11. They are Real, Transparent, Candid
The guys are not afraid to share their personal testimonies, even in trying times. They show us how us they are human, and how they too struggle with situations other young people deal with.
10. It's "Time for a Change"
Their latest video "Time for a Change" reflects the current tone of today's world, and give us an important message: "We got to step up our game. It's time for a change; we got to lift up His name. We can't be ashamed…"
9. They Minister the Word
The guys give us spiritual lessons not only through their music but by talking to us too. Their "Message in the Music" video series makes us think, and in their blogs they often have a word of encouragement to give. Their series on God's promises was truly soul-stirring.
8. They Represent for Young People
Unfortunately there are not as many young gospel artists that are promoted or known widely within the industry as there are young secular artists. The men of 21:03 are relatable to young people, even those who may not be yet saved, because of their raw realness and youthfulness.
7. They're More Than a "Boy Band"
Male groups come and go, but there's something about 21:03 that goes beyond music, fans and charisma. Their songs have value and vitality in their relevant messages, and the guys give their listeners more then just catchy tunes and throbbing hearts– they leave behind changed lives and soaring spirits.
6. 6 Years of Ministry
They've been making music together since they were teens, and their growth is apparent in their music. It's evident that they spend a lot of time nurturing and developing their craft and they just keep on growing in their Godly calling!
5. They're the Next Generation
Jor'el does a great job as co-host of the new BET show, 106 & Park Presents Generation Gospel. We'd love to see the other guys on the show as guests sometime. You can check out past episodes online HERE.
4. They Give Back
The guys of 21:03 know the importance of serving those in need. Watch this episode of 21:03 from a while back where they volunteered during the Christmas Season.
3. Each of the 3 Members
Each of the guys have genuine and unique personalities. Though you may not know them personally, you feel like you do as they share their journey.
2. They Are Dedicated to Their Supporters
The guys of 21:03 take the time to relate to their supporters and fans, and this is one of the reasons they are so approachable and relatable! Whether by calling them, replying to their messages, and providing ways for them to interact, the guys of 21:03 are really great at keeping their supporters close and welcoming them into their world! Here's a video of the guys calling some of their supporters.
1. And the number one reason to love 21:03 is…They Are Dedicated to Living for God!
They don't let their youth deter them from representing the Lord, and that is truly an inspiration!

21:03, thank you for your ministry, and Happy Birthday!


Don't miss 21:03's performance at the Celebration of Gospel, January 25th on BET. If you love 21:03, share why you do below!
Related posts: