"The love I'm singing about in that song is really not a pretty, clean, not a Hollywood hot pink love… It's the kind of love that is willing to love things that are messy…"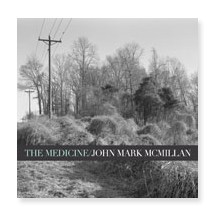 In the video below John Mark McMillan who wrote the worship song "How He Loves" talks about the story behind the song. In frustration, pain, brokenness, he pieced together an understanding of God's love that touches us tenderly within our darkest circumstances – and because the feeling is so mutual the song has blown across the world.
John Mark McMillan's upcoming project, The Medicine, will be available on July 6, 2010. Visit his website at www.thejohnmark.com to pre-order and for updates on his tour and projects. Also see the video below where he describes the vision behind The Medicine.
John Mark McMillan on His Upcoming Album The Medicine