We love supporting others' dreams here at Dream in Soul and SOAR, and this is a project we encourage YOU to support, from an artist that inspires.
Lynn Cifuentes kicked off a Kickstarter project to help fund for her Staring at the Sky EP, her first release. I first came upon Lynn's Youtube videos a few months back and was inspired by her moving covers and recently original songs that she's shared. Here's what Lynn says about her upcoming project that she needs your help to produce: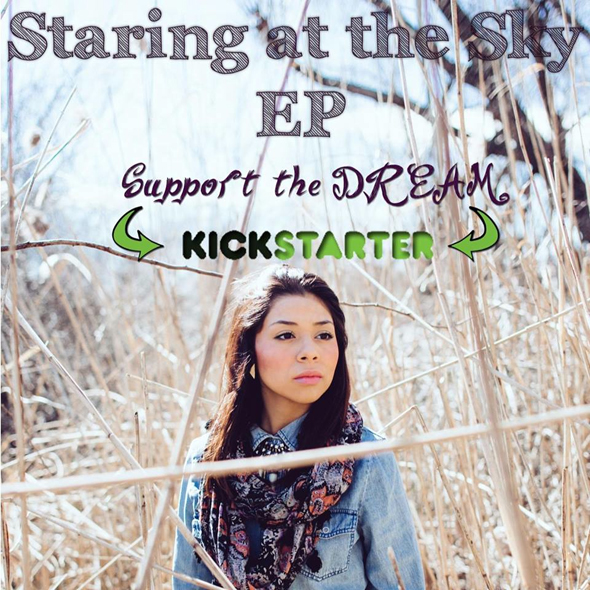 Note from Lynn on Staring at the Sky

Hey Everyone!

I am so excited about the great opportunity that I have before me to make this lifelong dream of mine a reality. With your help WE can make this record happen. The EP titled "Staring at the Sky" comes from a very deep place within my heart. It was the tragic death of a very dear friend Timmy in 2008 that got me questioning God about who I am and what purpose I serve in this life. I turned to my journal and started writing down my feelings, anything I read, heard or felt bled out of my pen and onto the pages. It was my way of dealing with my feelings and those simple words turned into melodies and it was as though music and writing were the only two things I was absolutely sure of. I started looking deeper within myself and cried out to God one night and I distinctly remember Him reminding me that my life had a purpose and I would only discover it in Him. That purpose was to just WORSHIP. So I linked up with my pianist and my simple words became songs that I hope will be a blessing to everyone that hears them, and brings worship to the heart of God.

This EP contains 7 tracks that are a mixture of love songs to God as well as worship. This will be my first ever EP and it's an exciting season of my life, one that requires that I place my complete trust in God. After searching for the right producer I found one who understands the vision and passion I have for this EP. He is located in Nashville, TN and if I accomplish my goal of $5,000 (with your help, of course) I will be able to lay down my vocals, pay for studio musicians, pay the producer and ultimately have a mix and mastered product.

The goal of reaching $5,000 when you look at it, it looks intimidating and at first I thought "Wow, this is too much". The truth is, it's not. I believe that if you have a desire in your heart and God places a Dream in you, then you should give Him everything you've got to reach the places that He's carved out for each of us. I want the production of my work to reflect the gift that The Lord has given me and for Him to get the glory for it.

As I write to you all and I reflect on the start of this journey I can't help but to be thankful and feel blessed. I never thought that I would find the courage to even create this Kickstarter page and invite all of you into the journey with me. I know that this whole thing is a result of Gods leading on my life and that I truly am nothing without His grace.

So with your faith in me and my faith in God we can make this a reality. My motto lately is DreamBIG and I truly believe in this, so if you have dreams, then I pray you do something about it and make it happen

Thanks for reading.

God Bless,

-Lynn
Click here to visit Lynn's Kickstarter project page and show your support with any amount that you're led to give. Keep following your dreams Lynn, you're an encouragement to others to do the same!
Check out some of my faves from Lynn's Youtube channel a cover of "I See Heaven / Holy Spirit" by Bryan & Katie Torwalt and the first video I came across from her, a cover of Kari Jobe's "I Know You Are For Me":
Related posts: