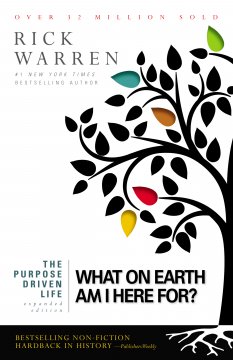 What does God have for my future? That's a question so many of us ask, whether we're wondering what career path to pursue or in soul-searching while pondering the reality of God and the meaning of our lives. For the past 10 years Pastor Rick Warren's bestselling book "The Purpose Driven Life" has given readers direction on connecting with their purpose, and the significance of that message is why the book has been revived this year and reprinted for a 10-year-anniversary expanded edition.
I first read the Purpose Driven Life seven years ago with a small group at church during our "40 Days of Purpose" series where we followed the author's recommendation to read one chapter a day. I also have the audio book and journal that I've enjoyed over the years, and have passed along my previous copy of the book to a family member.

This 10 year expanded edition has a new crisp and colorful cover that gives it a fresh look, and I've been inspired to start the now 42-day reading journey again. As Pastor Warren writes in the book's introduction, taking the time to savor the content and applying it to your life can help you get the most out of it. Since I was a teen the first time I read the book I believe my experiences and growth throughout the years give me new perspective.
I've always enjoyed the simplicity of the chapters and Warren's ability to share the message of finding purpose in a way that is relevant and applicable to a wide audience – everyone can benefit from finding and pursuing the reason God placed them on this earth. As with any read that is not the Bible, it's good not only to absorb the content but to do your own exploration of the verses given and their context, and reading with the prayerful direction of God to discern how the messages relate to your life on a personal level.
This edition is identical to the first, but has new coordinating online videos and audios that you can follow along with, and two extra chapters "The Envy Trap" and "The People-Pleaser Trap" which touch on hindrances that keep people from connecting with their purpose. I could relate with these two additional chapters and agreed with the author's observation of how our online culture makes it easier for someone to compare oneself to others and envy others' calling. Pastor Warren reminds us to live within God's view and purpose for our lives, which is the only way we will be truly satisfied – in Him.
Whether reading it again or picking up a copy for the first time, The Purpose Driven Life remains an applicable resource that can help set your focus back on the One who sent us here to do His will. Even after 10 years this book's message remains pertinent and would make a wonderful gift to inspire the emerging generation, or anyone else.
Note: I received a complimentary copy of The Purpose Driven Life from the publisher but was not required to give a positive review.

From the Publisher:
Licensed in over 85 languages, The Purpose Driven Life is far more than just a book; it is a guide to a spiritual journey… Once you take this journey, you'll never be the same again.

On your journey you'll find the answers to 3 of life's most important questions:
The Question of Existence: Why am I alive?
The Question of Significance: Does my life matter?
The Question of Purpose: What on earth am I here for?
Living out the purpose you were created for moves you beyond mere survival and success to a life of significance—the life you were meant to live.

Five benefits of knowing your purpose:
It will explain the meaning of your life.
It will simplify your life.
It will focus your life.
It will increase your motivation.
It will prepare you for eternity.

This new, expanded edition has been created for a new generation of reader.
A New Edition for a New Generation! 4 NEW FEATURES
Video introductions by Rick Warren to chapters 1-40
An audio Bible study at the end of each chapter, with over 30 additional hours of teaching by Rick Warren.
Two new bonus chapters on the most common barriers to living a purpose driven life.
Access to an online community where you can discuss your journey to purpose, get feedback, and receive support.
Related posts: