"If you don't get a miracle become one…" – Nick Vujicic
If you haven't been inspired by Nick Vujicic yet (he was featured in a previous message pick on Dream in Soul), be prepared to be encouraged! Nick is an amazing man who shows that with faith and relying on God's strength we can overcome dark and difficult circumstances that come in life. Born without arms or legs, Nick battled depression and suicide attempts growing up to face Life Without Limbs and find his true purpose and a life without limits- glorifying his Creator.
Now Nick travels across the world as a speaker and author, spreading the Good News and his story of triumph and everyday renewal of God's mercy. Nick's also been featured in a documentary of his life called "The Measure of a Man" and the creative short film that will become a feature length film, "The Butterfly Circus." Now adding music artist to his inspirational repertoire, Nick recently launched a song called "Something More" to spread his message of hope, watch the video above (congrats to Nick who also recently got engaged!:). Visit his site http://www.attitudeisaltitude.com for updates on his ministry and projects, and download the song "Something More" on iTunes here.
The Something More Campaign

In the fall of 2009, Nick Vujicic and Tyrone Wells discussed the possibility of working on a project together, unaware that their bond had been established long before the meeting ever took place. Tyrone had already written the captivating "More" lyrics. Nick had always dreamed of being part of music with meaning. Today, the song connects both men in an incredible way.


"More" mirrors Nick's personal testimony, depicts Tyrone's heartfelt plea, and conveys a strong message of hope. Nick Vujicic and Tyrone Wells have united, and launched THE SOMETHING MORE CAMPAIGN, combining the arts of music and film with the power of inspiration. With the music video and the documentary series in the final stages of post-production, THE SOMETHING MORE CAMPAIGN is now ready to debut.

Click here to learn more about the The Something More Campaign
Watch the video below to find out more about Nick's story: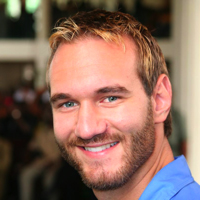 About Nick Vujicic

Imagine being born without arms. No arms to wrap around a friend ; no hands to hold the ones you love; no fingers to experience touch ; no way to lift or carry things. How much more difficult would life be if you were living without arms and hands? Or what about legs? Imagine if instead of no arms, you had no legs. No ability to dance, walk, run, or even stand. Now put both of those scenarios together… no arms and no legs. What would you do? How would that affect your everyday life?

Meet Nick Vujicic, pronounced 'Vooy-cheech'. Born in 1982 in Brisbane, Australia, without any medical explanation or warning, Nicholas Vujicic came into the world with neither arms nor legs. Imagine the shock his parents felt when they saw their first-born brand new baby boy for the first time, only to find he was what the world would consider imperfect and abnormal.



Related posts: