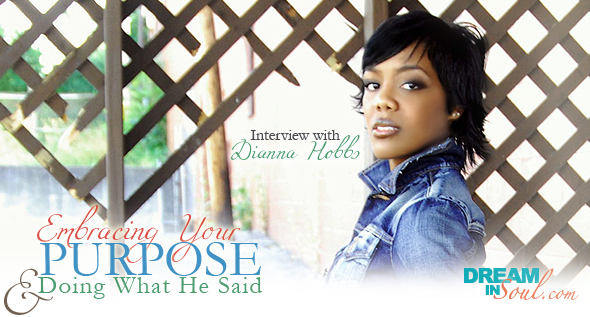 When you have a divine urging inside of your heart it can be hard to ignore it, but can sometimes become difficult to press forward to what God has called you to do. Purpose often doesn't come without its detours especially when obstacles and disappointments blur the vision God placed in our heart.
Dianna Hobbs can attest to facing obstacles when pursuing music, her buried passion. As the Founder and Editor-In-Chief of EEW Magazine, the premiere Christian publication for African American women, she has paved a path of influence in media throughout the years, along with pouring out daily encouragement on her blog.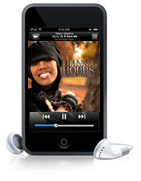 Behind the scenes though she felt God drawing her to begin her music ministry. It was only recently that she got the courage to do what He said, and thankfully she did. Now Dianna is inspiring many hearts through her music, which blends CCM, pop, R&B, and sometimes, soft rock along with encouraging messages. In this interview Dianna talks about her journey and gives advice to others who may need direction in bringing their God-given dreams into fruition…

Dream in Soul: On your blog "Your Daily Cup of Inspiration" you've shared your story and journey of "doing what He said" in terms of pursuing your music ministry. Can you share some of your journey of when God spoke this ministry into your heart and what inspired you to begin it now?
Click below to visit Dianna's Blog


Dianna Hobbs: First of all I want to say thanks so much for taking the time to interview me on Dream In Soul Julene. I appreciate it.
Wow, my journey. Let's see. We have to go back several years. Uh, I grew up in the Church of God In Christ singing from the time I was about five. I hated singing! Seriously. I would cry and beg not to have to do it, but my parents told me I had to use the gift God had given me.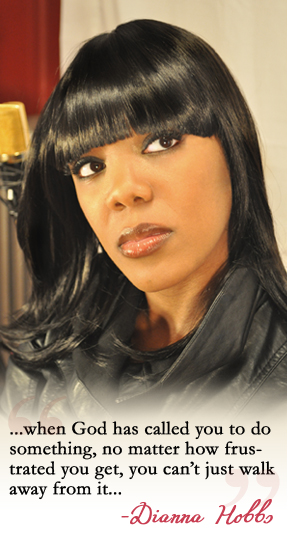 Anyway, my dad was the pastor of a small church and at 12 years old, after my oldest sister got married and moved away, I had to take over the music department. It was tough at first, but that's how I learned to teach vocal harmonies and write songs.
Well, fast forward to late 2004 and one of my older brothers, who had heard all the songs I had written over the years, told me I just had to share them. My first answer was no way! But after a few months, he convinced me to do a concert in my hometown, Buffalo, NY on April 30, 2005. I'll never forget that date because I was floored when a couple thousand people showed up to my very first concert. The altar was packed at the end of the event and we had church! I think that "validated" the ministry for me if you will. I didn't even have an album to sell or anything. And that's when the seed was first planted to seriously pursue music ministry.
So, long story short, I had a few "almost deals" that fell through. Then I teamed up with a business partner to start a label. We had everything in place. I mean, everything. Then, I got an email notifying me that this person was pulling out of the deal. That broke my heart. I mean, I was beyond crushed. I cried… hard. I had a fully formed label and the bottom dropped out. So I threw my hands up and said, I'm not doing music. Forget it. I didn't even want to talk about it. It hurt too much. But when God has called you to do something, no matter how frustrated you get, you can't just walk away from it, you know what I mean? But, for two solid years I didn't do anything related to music. God had to heal me first and then, I began writing songs again. It's the songs that made me say, Alright Dianna. This music isn't just for you. "Do What He Said" and "Purpose," which I wrote this year, ministered to me so deeply and gave me the strength I needed to get back out there and do what God called me to do. And so, here I am.
Dream in Soul: What are the main messages you want to give with your two songs "Do What He Said" and "Purpose"? Will the theme carry through to other songs on the upcoming album?
Listen to Dianna Hobbs' Song "Do What He Said" Below

Dianna Hobbs: This is a great question, because I genuinely believe the Lord wrote these songs to me, so He could get the message through me, if that makes any sense. "Do What He Said" came to me after a conversation with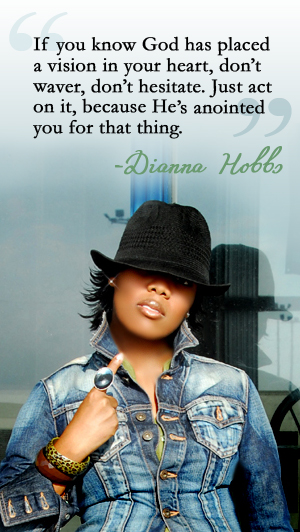 my husband Kenya about whether or not this was the right season to do music. And right on the spot, the lyrics and the melody dropped on me. Crazy, right? I started singing what I heard. "You've gotta do it, if He called you to it, don't make no excuses…"
I called up my producer, Kre8tor, laid that track down while I was sick with a horrible cold, and released it soon after. That was my way of saying, yes Lord. And that's the message to anyone reading this interview. If you know God has placed a vision in your heart, don't waver, don't hesitate. Just act on it, because He's anointed you for that thing. And the song "Purpose," which is very near and dear to me as well, is an expression of what it feels like to live life without ever tapping into the thing God has placed you here on this earth to do. It's miserable! And can I just tell you, I literally felt like I was suffocating inwardly during that season of giving up on my calling to do music.
Although EEW Magazine and Hobbs Ministries were both really flourishing, and life was great with my husband Kenya and our four kids; something was still missing because I was suppressing that one area God wanted me to pursue, music. So, Purpose expresses the pain of smothering your divine calling when it's screaming to get out. As for my full album, you'll hear worship songs about pursuing God and being thirsty for Him, and also songs of encouragement for those feeling weary. I believe it'll be a well-rounded project that deals with several different areas.
Listen to Dianna Hobbs' Song "Purpose" Below
Dream in Soul: For young adults, or anyone, who feels uncertain to what that God-given purpose is, if they are able or if it is practical or possible, what advice would you give to discover that purpose and to embrace it?

Dianna Hobbs: Hmmm…love this question too! There are four things I want to say about this. First of all, you have to be in a place of right-standing with the Lord. Stay in your word, seek Him in prayer, and live right so you'll be able to receive instruction from Him. That's most important. Secondly, pay attention to your talents. This is a very practical thing. God equips us in the areas we're called to. So when you're purposed to do something, you'll discover that you're uniquely gifted, even if you don't have formal training. You'll just be able to do it and that's because you're supposed to be doing that thing.
Thirdly, God will open doors and make provision in the areas you're called to operate in. Don't ignore open doors! If you see that He keeps making ways for you to pursue a course of action, then walk down that path. Lastly, don't assume that pursuing your purpose means you'll attain things effortlessly. That's not true. It'll be hard work, but God will give you strength as long as you stay in His will.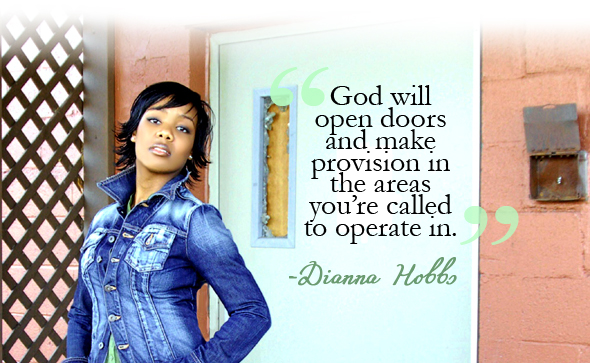 Dream in Soul: There may be some people who've already begun to pursue a God-given dream, yet maybe have hit times where the purpose seems purposeless and fruitless. How would you encourage someone going through such a valley?

Dianna Hobbs: Oh, I know how tough it can be going through what I call a dry place! It's not easy when you know that God has called you to do something, but it still doesn't seem to be yielding fruit. But I often say, no farmer plants a garden and expects to gather a harvest overnight. It takes time to see results. But that's why you have to be motivated by your purpose and not instant results. When you do something out of obedience to God, your desire to please Him will motivate you during those times when lack of results discourages you.
Dream in Soul: When can we look forward to your album?

Dianna Hobbs: The million dollar question! Well, the full album which is yet untitled will be released in the spring of 2011.
Dream in Soul: Thank you so much for taking the time to inspire us Dianna, your ministry is a blessing in every arena!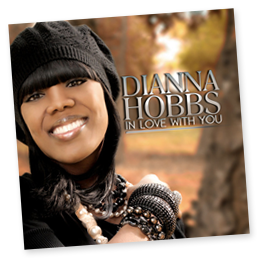 Dianna Hobbs recently released the video for her third song "In Love with You." Of the song she says, "It's an upbeat praise song I believe you'll really enjoy that talks about the depth of my love for Jesus."

Click Here To Purchase The Song and the Others Featured Here on Her Official Music Site
Dianna Hobbs – Video for In Love With You
---
To learn more about and connect with Dianna Hobbs and the multiple facets of her ministry visit the websites below:
- DiannaHobbsMusic.com – Purchase Music on Her Official Music Site. Dianna is signed to Double Edge Ministries an urban gospel label in partnership with her own label, IndieBuzz Music.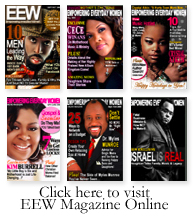 - Empowering Everyday Women (EEW) Online Magazine – The leading lifestyle publication for Black Christian women

– Your Daily Cup of Inspiration – Be Encouraged on Dianna Hobbs' Blog

– EmpoweringEverydayWomen.com – Her Ministry Site
– An Audio Interview with Dianna on Designing for the King Radio Show with Deana Murphy


A few weeks back EEW Magazine editors asked women to participate in the "Do What He Said" national campaign to "embolden, encourage, and empower women to reach the destiny God has promised to give them, while annihilating the gripping fear that holds them back from fulfilling their divine calling and mission in life." Five women had the opportunity to be featured and to tell their stories of pursuing purpose. Click here to be inspired by their journeys.
Related posts: