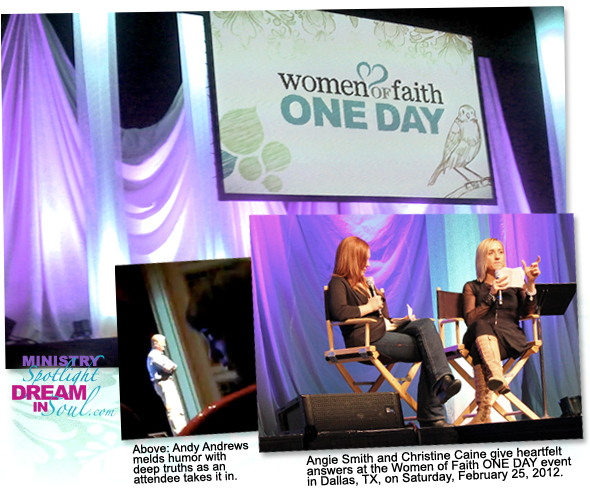 by Julene Fleurmond, Editor of DreaminSoul.com
The auditorium was a sea of excited and expectant expressions waiting to see what effect a single day could have on their lives. Soon the room was filled with waves of laughter and streams of tears – sometimes all at once – as Women of Faith's ONE DAY event in Dallas made an impact.
Hundreds of women shared a bond and a deep sense of God's love and dreams for their lives as speakers Christine Caine, Andy Andrews and Angie Smith, poured out their stories and faith-filled wisdom into open hearts.
This was the first year for ONE DAY, created in response to women who couldn't attend the two-day Women of Faith events. ONE DAY had a more intimate atmosphere that allowed the speakers to go deeper and the attendees to get more up close and personal and feel like they are part of a sisterhood that shares their faith and feelings about life.
I've been inspired by the ministry of Women of Faith for several years now, but never had chance to attend their live events, (other than last year's event for teen girls, The Revolve Tour: "Dream On" which was a fun and moving experience).
I was excited to go to ONE DAY, and what made it more personal for me was that it was held at Southern Methodist University where I went to college, in the very same auditorium I graduated in. Three years ago I sat in those seats and walked across that stage in apprehension, wondering what calling God had placed on my life. On Saturday the encouragement from the ONE DAY speakers had an impact on me in ways I couldn't imagine.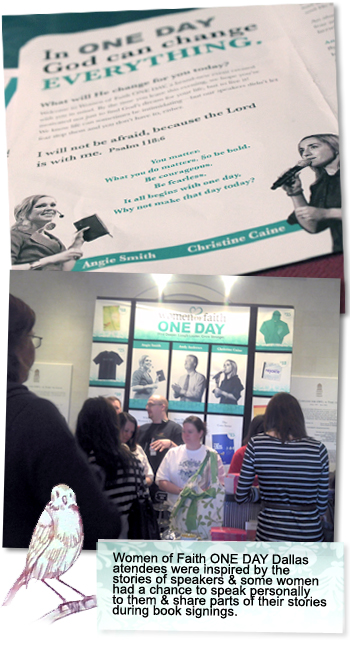 The theme of the event was "In ONE DAY God can change everything," with Psalm 118:6 as the leading verse:

"I will not be afraid, because the Lord is with me."
Each speaker had a unique style and broke the ice with humor before delving into more serious and somber parts of their stories, to inspire us to see God's divine plan in our own lives. I loved their transparency of sharing the not-so-pretty parts of their backgrounds that can help others going through similar situations. Here are a few highlights of what they shared:



"If you're still here there is more left to life…" – Andy Andrews
Worship leader Jennifer Thigpen opened the day with prayer and song to set the atmosphere and focus of the day. Then Andy Andrews, bestselling author of The Traveler's Gift, took to the stage and the auditorium aisles as a bouncing ball of energy, joking that his adult ADD was kicking in that morning. Laughter rolled through the audience as he wove in and out, sharing his difficult past and wisdom about living purposefully and impacting those around us through intentional choices. His two sessions spread throughout the day were engaging and I along with many of the attendees nodded and scribbled away at our notepads to capture his insights.
"Life is a vapor but the choices we make matter…I want to live a life of purpose – I want my vapor to count…" – Christine Caine
Christine Caine came to stage so personally, like a close friend (if only we each had a friend with an awesome Aussie accent that we could listen to all day). She dove into deep topics like forgiveness as she recounted her story of overcoming a past of abandonment and abuse. Now she is saving the lives of other women exploited in human trafficking through the A21 Campaign. She challenged every woman to take the unpaved path to make a difference in the world, saying, "I think God wants to take us places we never dreamed of by paths we never knew existed."
"If what you are doing glorifies you, not God, you have misunderstood your calling…" – Angie Smith
Angie Smith's warm demeanor and transparency was inviting as she recounted her struggles with crippling fear since she was a child and a story of loss. Through heartbreaking trials she realized that God could take the pain in her life to create something beautiful that could bring glory to Him and give hope to others. Tears fell around the room as she asked those who had experienced a similar loss to stand, and instantly hearts were connected and comforted as they realized they were not alone. Afterwards we were left with the truth that where we experience our "greatest life wounding" and hurts, we can also find our calling if we bring our offerings of obedience to the King.


My favorite part of the ONE DAY experience was the Q&A session where Angie Smith and Christine Caine answered questions so personally and sensitively, about topics like divorce and differences between men and women. We were given question cards to fill out beforehand, and this made the conference interactive without making the attendees uncomfortable with having to share anything too difficult. We were able to get a glimpse of the hearts and stories of the women in the room and relate to them as well.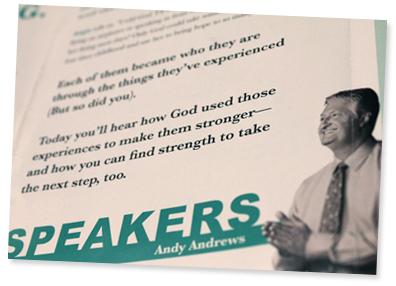 Through the event I was encouraged that God could also use me to touch others' lives, no matter the flaws or weaknesses I think may disqualify me, and the worry that has held me back in my own journey. Seeing that these speakers who seem so special and exceptional have had hurts and hindrances as well as fears and failures, reminds me that we all are precious to God and can be used by Him in ways beyond what we could dream, if we hand over the steering wheels to Him in this ocean of life.
Overall Women of Faith ONE DAY was a powerful event and will inspire you to see the beauty of the dreams and story God is unfolding in your life. Just as the event tagline suggests, you'll "dive deeper, laugh louder, and grow stronger" than you have at previous WOF events. It's like great gathering of girlfriends who come together to bond and learn about who we are in Christ and how we should embrace our purpose – boldly, fearlessly, courageously.
Other ONE DAY events will take place around the country, some with these speakers who came to Dallas, others with author and speaker Sheila Walsh, comedian Ken Davis and some including ventriloquist David Pendleton and American Idol finalist and singer-songwriter Scott MacIntyre.
You can visit the website at http://www.womenoffaith.com/oneday to see when Women of Faith One Day will be coming to a city near you and to register. You can also register for the two day event "Celebrate What Matters," and if you have a teen in your life be sure to take them to The Revolve Tour: "Dream On" this year (click here for my coverage of last year's event.) The event is fun, faith-filled and inspired me (and I am far from being a teen:).
More About Women of Faith ONE DAY

"You've seen Women of Faith before . . . but you've never experienced it like this! Women of Faith ONE DAY is a brand-new event unlike anything we've ever done before. New format, new focus, new depth . . . you'll connect on a whole new level. This empowering event could set your life on a new course or give you additional tools to continue what God has already started. What if one day could make all the difference? Find out at Women of Faith ONE DAY.

"These new events are in smaller venues so space is limited. Don't wait and risk missing out on what could be a game-changer for your life."

Visit http://www.womenoffaith.com/oneday to learn more.

Watch the two promo videos for the One Day Events:

Women of Faith ONE DAY 2012: Angie Smith, Christine Caine, and Andy Andrews challenge and inspire with their personal stories, humor, insights from Scripture, and more.





Popular speaker and Bible teacher Sheila Walsh teams up with comedian and storyteller Ken Davis for one day that could change everything. Dive deeper. Laugh louder. Grow stronger. It all begins with one day.



Read More Posts From Dream in Soul Editor Julene Fleurmond's Journal

Related posts: