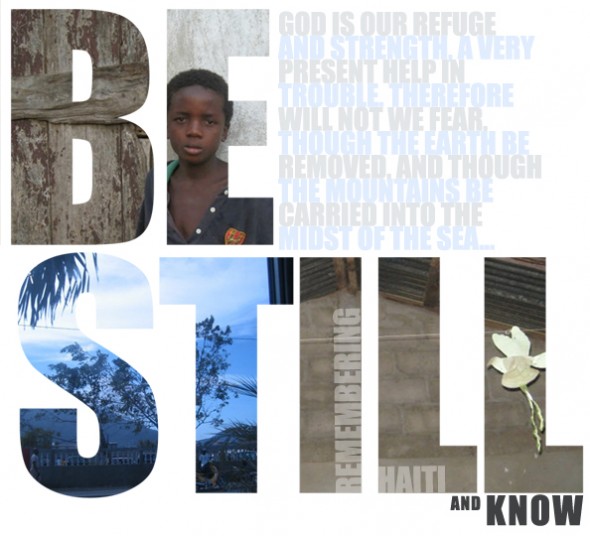 Psalm 46
1 God is our refuge and strength, a very present help in trouble. 2 Therefore we will not fear though the earth gives way, though the mountains be moved into the heart of the sea, 3 though its waters roar and foam, though the mountains tremble at its swelling…
10 "Be still, and know that I am God. I will be exalted among the nations, I will be exalted in the earth!" 11 The LORD of hosts is with us; the God of Jacob is our fortress.
A year ago on January 12th a devastating earthquake shook the land of the nation of Haiti. Even in the turmoil hope and faith sprang forth from the hearts of the people. Soon after the catastrophic event the news covered stories of the lost and surviving. One of the newscasts showed where a prayer celebration took place in the heart of Port Au Prince with people dancing and singing: "Depi Jezu chita sou trone lan, tout bagay deja bien," which translates into English – "Because Jesus still sits on the throne, everything is okay." This amazing faith is a testament that though the ground shakes hearts can remain firmly rooted in Christ. Though our worlds seem to give way we can be still and know that He is God.
The earthquake hit close to home for me as I have many family members who live in Haiti that were affected. I praise God for the hope He gives even in tumultuous times…
Let's remember our brothers and sisters in Haiti, not only today but always, in our prayers and our minds. There is still much that needs to be done to help the people recover. Visit A Home in Haiti for information on how you can help build schools and orphanages in Haiti. Currently they are undertaking their first construction project – "the largest home and school for severely disabled orphans with cefrebral palsy, autism, and more in all of Haiti."
Related posts: