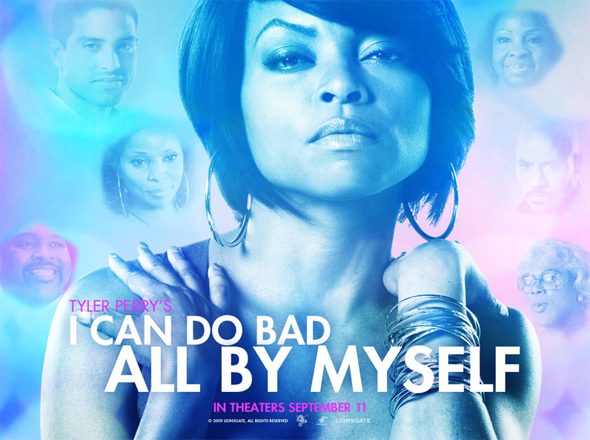 Tyler Perry's latest movie "I Can Do Bad All By Myself" will be in theatres September 11th. It seems it will be another signature Tyler Perry blend of comical circumstances and spiritual redemption. The film stars 'Madea', Taraji P. Henson, Mary J. Blige, Gladys Knight, Adam Rodriguez, Pastor Marvin Winans, and Brian White.
"You will laugh, you will feel good, you will shout and rejoice! Go see this film! Gladys Knight is singing the house down, Pastor Marvin Winans is preaching and singing and giving me chills every time I watch it (and I have watched it over and over and over)." – Tyler Perry talking about "I Can Do Bad All By Myself"
You can visit www.icandobadmovie.com to learn more about the movie. Check out the trailer below:
Movie synopsis from website:

When Madea, America's favorite pistol-packing grandma, catches sixteen-year-old Jennifer and her two younger brothers looting her home, she decides to take matters into her own hands and delivers the young delinquents to the only relative they have: their aunt April. Initially wanting nothing to do with the kids, April learns along the way that she can change her old ways and become a better person. But it takes a lot of work and the help of a handsome Mexican immigrant who moves in with April to push her to change.
There is also a Gospel and Blues contest where you can enter your video for a chance to win. Learn more at http://www.icandobadgospelcontest.com
"I Can Do Bad All By Myself" Contest Details

Just in time for Tyler Perry's newest movie, "I Can Do Bad All By Myself", an exciting contest has arrived that lets Tyler Perry fans put their singing skills to the test to appear on BET and win cash!

Fans can get started by visiting www.icandobadgospelcontest.com to submit a video of their gospel or blues performance. Songs may be performed solo or with a group, and everyone from jazz musicians to church choirs are welcome to submit.

The winning videos will be chosen by Pastor Marvin Winans of Perfecting Church in Detroit. Judging will be based on originality, talent and creativity with the first place winner receiving a spot on BET and a $2,500 gift card. Four runners-up will receive Tyler Perry prize packages. Contest runs through September 7.

(Contest Details From GospelMusicChannel.com)
Update: On September 8th, Tyler Perry did a live chat with fans talking about the film. You can see a clip of it below:


Related posts: